Your search results for "Instagram"
---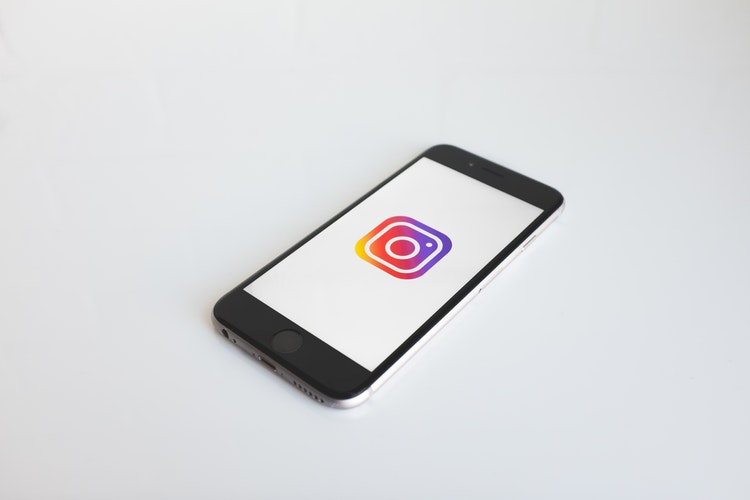 Instagram is a natural fit for real estate. Here's what you need to know about using Instagram for real estate marketing.
---
Highlights: 
Instagram content needs to be consistent in tone and timing, visually appealing and engaging.

 

Instagram Stories and Highlights are ideal ways for real estate marketers to give users a look into their brand.

 

Hashtags promote engagement and raise brand awareness.
---
With its highly visual platform, robust Stories feature, and growing user base, Instagram is a natural fit for real estate marketing. The platform boasts over 500 million users and 4.2 billion likes per month. Used strategically, it's an ideal place to showcase your properties and brand. 
Real estate marketers should be aware that Instagram requires a different content and posting strategy from Facebook, Twitter, LinkedIn, or other social media platforms. For example, engagement on Instagram is ten times higher than it is for Facebook, and the demographic is substantially more affluent — making it a no-brainer for luxury real estate. 
In general, marketers have been relatively slow to adopt Instagram for real estate marketing, a puzzling reality given its overall popularity and natural fit for the visual nature of real estate. But savvy marketers, like these five real estate accounts for example, have figured out how to use this platform to great success. 
Instagram for real estate marketing — the right kind of content 
Instagram is a fantastic platform for engaging users. But to get the most out of it, it's important for real estate marketers to post the right kind of content. Obviously, Instagram is a highly visual medium. It lends itself to beautiful, arresting images, and pitchy hashtags. 
Keep your content and visual style consistent. Your profile is your calling card on the platform and should reflect the overall tone you want to set for your brand. This also means posting content at a consistent rate, ideally 2-3 times a day.  
Chances are, you've had fun playing with Instagram filters. But you may not know that certain lighting and color presets perform better than others. According to Iconosquare, the most popular filters currently on Instagram include Clarendon, Juno, Lark, and Ludwig — and they really do have an impact on engagement.  
In order to determine the best types of content to engage your target audience, keep an eye on your competitor and peer brands' presence on the platform. You can also make use of Instagram analytics tools to track, analyze, and benchmark your Instagram content.  
Instagram Stories and Highlights
When the feature was first introduced, Instagram Stories was a gamechanger for the ways in which users interact on social media. Stories are sequences of content that users post to their Instagram accounts over a 24-hour period. Besides photos, Stories can include videos, live and prerecorded, as well as Boomerangs, seconds-long motion clips that play forward and backward. 
Stories can also be customized with various design tools, including stickers and filters. Notably for real estate marketers, these tools include location tags, as well as time, weather, or holiday greetings. Audiences can view the Stories of the users they follow within the 24-hour window after they are posted. They can find users with active Stories by scrolling the user icons at the top of the app. Or users can tell their followers that they've posted a story by tagging them, which notifies them through a direct message. 
For brands, Stories offer the invaluable feature of having metrics wrapped into the experience. The feature allows you to track not only how many views your story has received, but exactly which users have viewed it, and how they interacted with it.  
In addition to its Stories feature, Instagram now lets users create a featured group of "Highlights" in various categories on their profile. Stories have only a 24-hour lifespan, so featuring your most effective Stories clips in Highlights gives them a second life, and a chance to engage future followers. 
Hashtags
One of the most effective ways to grow your Instagram following is to use hashtags effectively. Since Instagram gives users the ability to follow hashtags that interest them, and they function as links to other relevant content, choosing the right hashtags is the ideal way to reach and engage your target audience.  
Keep an eye on accounts of peer brands, to stay up to date with the best hashtags to be using. The most effective hashtags are short, memorable, and easy to read. You can also use a free online tool like InconoSquare or Websta to find relevant hashtags for the real estate industry. For much more, check out our guide to using hashtags for real estate marketing.  
If you want engagement, engage
It's easy to forget that the fundamental benefit of social media is that it's social. Users want to be part of a conversation. Encourage your followers to interact with you on all your social media platforms, including Instagram. This means responding to comments and brand mentions, as well as engaging with your followers' content.  
Starting and fostering a conversation with your followers and peer brands on Instagram is a key to getting the most out of this platform. Encouraging interaction helps drive brand awareness, and lead generation for your properties. Now, the time has come for you to master Instagram for real estate marketing.  
Related Posts 
Your search results for "Instagram"
---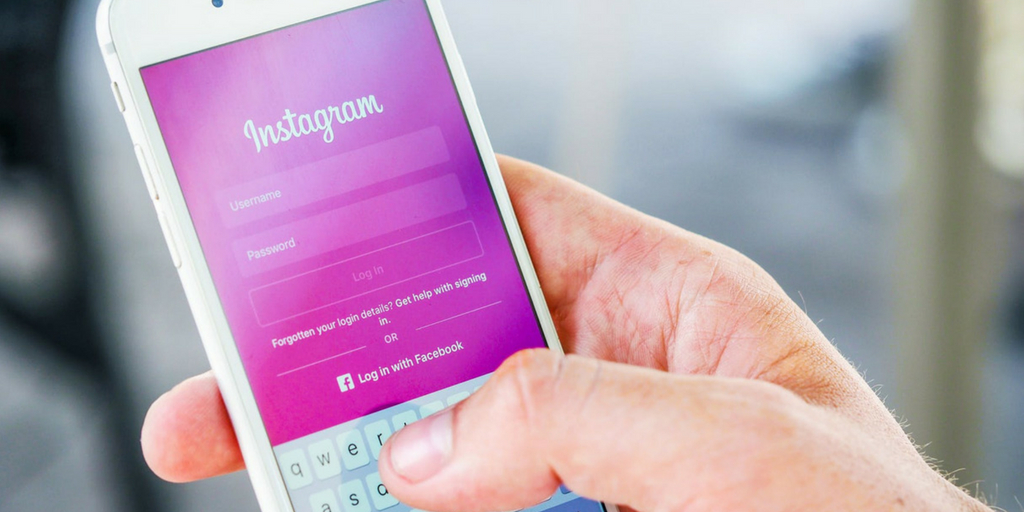 Instagram continues to lag behind other social media platforms when it comes to real estate marketing. But these five accounts have it figured out—follow them for ideas on how to use Instagram to promote your brand and properties.
Instagram remains an emerging platform for real estate professionals, and, given its overall popularity, it's puzzling that it hasn't taken over the real estate marketing world. With the majority of real estate searches beginning online, social media is an ideal way to showcase listings.
As the average age for other social media platforms rises, Instagram has a lower average user age, and furthermore, much of its success comes from the fact that it keeps advertising much less invasive than its competitors. That doesn't mean that Instagram marketing isn't effective though. It's time for real estate marketers to take advantage of this platform.
Here are five of the top real estate Instagram accounts that are using their profiles to boost their marketing efforts.
1)     realestatelegend
Who doesn't like a good meme? Realestatelegend has garnered a loyal following by posting memes that give real estate professionals and enthusiasts a laugh. It's a great reminder that, while we devote a tremendous amount of time and energy to educating and persuading our followers, entertaining them can sometimes be just as effective.
2)     realestate_academy
Boasting over 133K followers, realestate_academy is one of the most popular real estate pages on Instagram. It makes use of the visual nature of the platform to highlight beautiful photography, as well as professional development posts and audience engagement.
3)     beginninginthemiddle
Everybody likes a good before and after story! Beginninginthemiddle is the output of a husband and wife team, dedicated to low-cost/high-drama renovations. They post incredible transformations—a great reference point if you're trying to show prospects the potential in a fixer-upper property.
4)     galloestates1
Ok, so it might not be for everyone (I don't necessarily want to see my real estate agent lifting weights), but this Beverly Hills-based realtor has one thing figured out: brand building with a personal touch. His Instagram account is engaging, and a good reminder that real estate is personal. You don't need to post gym selfies if that's not your thing, but Instagram is a great place to give your brand a face.
5)     the_real_houses_of_ig
With a whopping 1.8 million followers, the Instagram account of The Real Houses founder and editor Kate Rumson is a visual smorgasbord of her brand. Her posts demonstrate her talents in interior design, real estate investment, development and construction, and social media. What's most striking is the beautifully composed photography and compelling visuals.
Feeling inspired? Get Instagram-ing, and tell us about your efforts.
Related posts:
Your search results for "Instagram"
---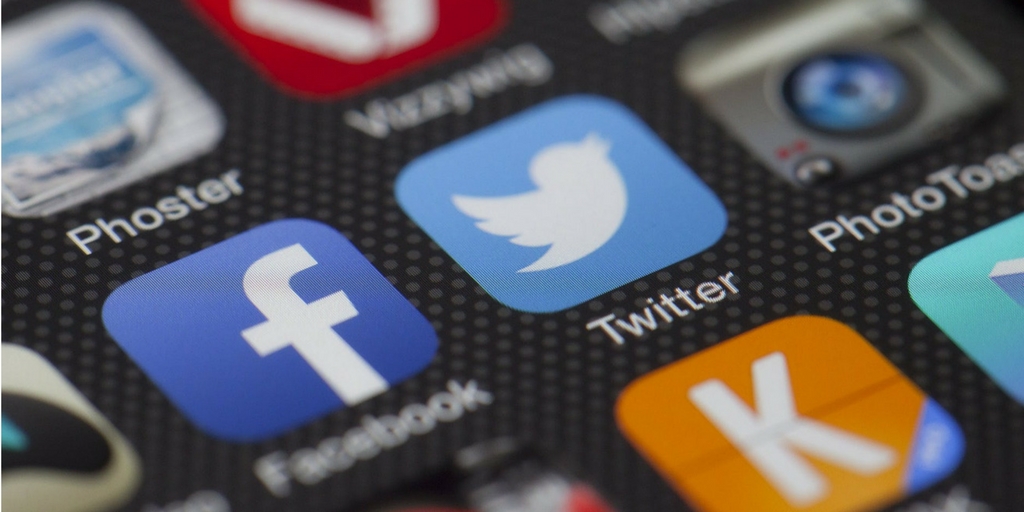 Our infographic breaks down the ideal social media posting frequency for properties and real estate companies on Facebook, Twitter, Instagram, and LinkedIn.
"Content is king, but distribution is queen and she wears the pants."
These are wise words from BuzzFeed's Jonathan Perelman, indicating that creating interesting and pertinent content is just half the battle. To reach your target buyer or tenant, raise brand awareness for your property, and drive sales, your content needs to be delivered consistently over time, at the right time, and on the right platform.
But keeping pace with where to distribute content, let alone how often, is no easy task. With social media networks changing daily, and countless studies trying to solve the social-media-frequency equation, things can seem hopelessly confusing.
To help you navigate these murky waters, we've assembled this infographic, based on our assessment of best practices. Of course, audiences vary widely across price points and regions, but we hope this resource will give you some general guidelines.
Social media posting frequency for real estate: An infographic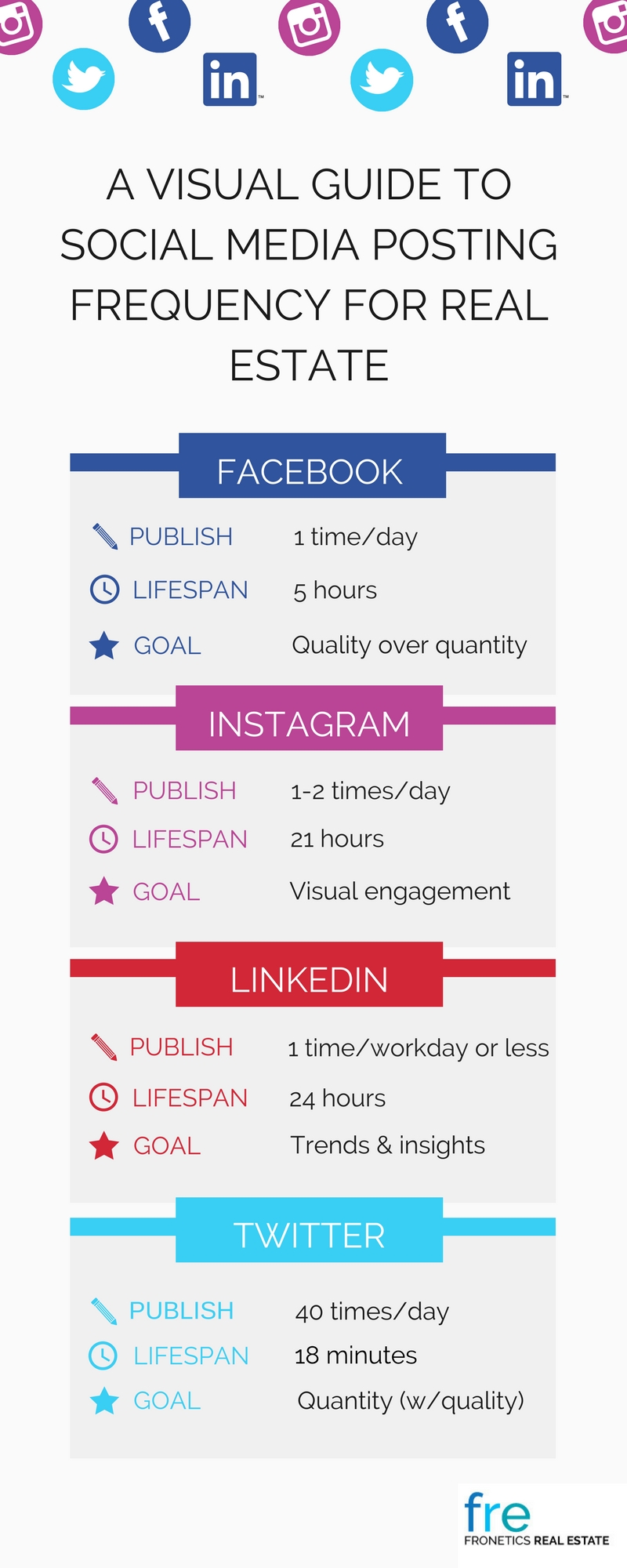 A few points to consider
Here's a little more information on why we came to these conclusions for social media posting frequency for each platform.
Twitter
After looking at various statistics from other brands, which suggested an ideal frequency far lower than our own, we conducted an experiment, using our supply chain brand, Fronetics. After dropping our post frequency for a month, we confirmed that our engagement, web traffic, lead generation, and other key performance indicators are at optimal levels when we tweet 40 times per day.
Facebook
Facebook's algorithm favors quality over quantity. This means that the more engaged your followers are with your content, the more likely they are to see your posts. So posting content that doesn't facilitate engagement can actually decrease the likelihood that your audience will see your posts.
It's also important to remember that the lifespan of a Facebook post is about 5 hours — much longer than that of a tweet. We've determined that for optimal Facebook engagement, you don't need to provide a constant stream of content to get your audience's attention. Instead, your focus should be distributing the most relevant, interesting content you can, at a time when most of your audience will be on Facebook.
Instagram
We're in agreement with most Instagram experts in that we find that, as with Facebook, it's best not to overwhelm your audience with a constant stream of content.
Additionally, your posts have a long lifespan on Instagram. A Union Metrics study found that many Instagram posts continue to receive engagement for days — even weeks — after posting. We've found that focusing on compelling images with strategic messages, posted at a low but consistent frequency, you'll get the most bang for your buck on Instagram.
LinkedIn
LinkedIn is generally acknowledged to be the elder statesman of social networks. A more formal and technical social media network, it's a platform for serious business-related content. It's a place where users seek information about potential investments, as well as market information — and that's a goldmine of opportunity for you.
We've found that posting just once per workday, or even less, and posting content that's less promotional and more heavily focused on market trends and insights is the best practice for LinkedIn. Your goal is for followers to come to consider your company or property as a go-to resource about the real estate market, local amenities and attractions, and investment opportunities.
Conclusion
The numbers you see in our infographic reflect what we've found works best for us and our clients in terms of social media posting frequency. Your company, or your marketing partner, should conduct due-diligence and determine what the right social media posting frequency is for your business.
Experimenting with different social media networks and posting frequencies will give you greater insight into your ideal distribution approach. Maintaining a dynamic and fluid posting strategy will ensure that your social efforts drive followers to action, rather than drive them away.
Related posts:
Your search results for "Instagram"
---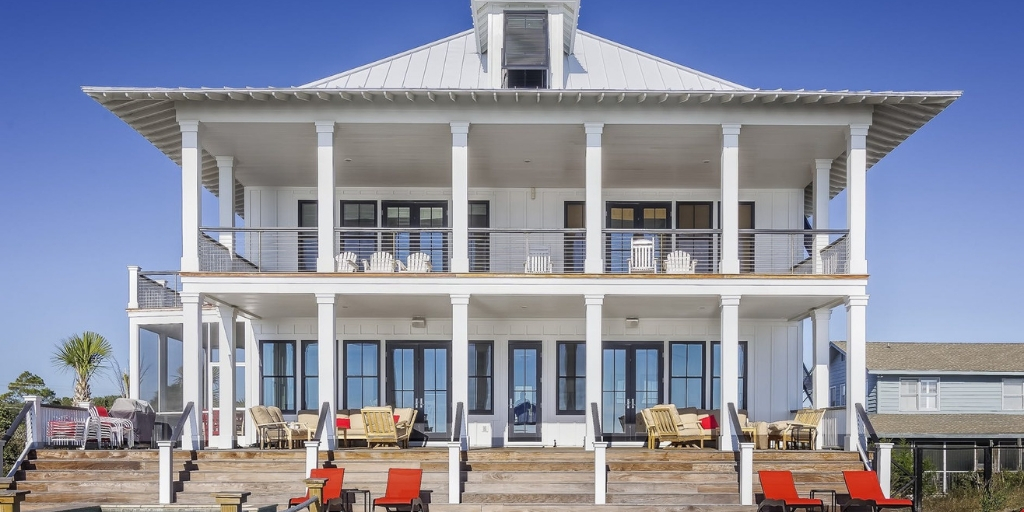 In the ultra-competitive field of luxury real estate marketing, social media can be your secret weapon. Here's how these platforms can help set your brand apart, and drive conversions.
---
Highlights: 
Social media is an ideal place to create and share your brand narrative.

 

With social media usage consistently on the rise, these platforms help lead users to your website.

 

The visual nature of social platforms like Facebook and Instagram is ideal for marketing luxury real estate.

 
---
Luxury real estate doesn't exactly sell itself — if you're a marketer, you're well aware of this fact! The relatively limited customer base and highly competitive field make it crucial for luxury real estate brands to set themselves and their properties above the pack. When it comes to marketing luxury real estate, social media can be your best friend.  
 Of course, social media marketing and real estate are a match made in heaven. Real estate is inherently personal, even at the corporate and luxury levels, and marketers can use social media to great effect in cultivating productive relationships with leads. Here are four ways social media can boost your luxury real estate marketing efforts. 
4 Ways Social Media Can Help with Luxury Real Estate Marketing
 1. T
ell the story of your brand
Luxury real estate marketing depends on telling the unique story of your brand — your brand narrative. Social media provides an ideal platform for creating and sharing your brand narrative. Facebook, Instagram, and Twitter are all highly visual networks, perfect for giving your followers and inside look at your authentic luxury brand. 
Use photos and videos to show off your luxury properties, and to capture the look and feel of your corporate personality. (If you're looking for some extra inspiration, these 5 Instagram accounts are killing it at Instagram marketing.) Let your brand's identity and unique personality shine through in both your visual and written social media content. 
2. Cultivate relationships
When it comes to marketing luxury real estate on social media, perhaps the most important, and most often forgotten aspect is the "social." The amazing thing about these platforms is that they allow marketers not just to share branded content, but to interact with followers, building lasting relationships. 
Take advantage of this tremendous opportunity that social media offers. Encourage your followers to engage with you through comments, photo competitions, and questions. When your followers interact with your content, be sure to reply! Go above and beyond by taking the time to interact with content posted by your audience, peer brands, or luxury real estate influencers. Trust us, these small efforts will pay off in a big way. 
3. Drive traffic to your website
Used effectively, social media is a great way to drive organic traffic to your website. Consider this: while relatively few people spend time online browsing luxury real estate websites, the average person spends about 135 minutes per day on social media. Like it or not, these platforms are becoming our primary sources for news, socialization, and branded content.  
An active social media presence lets you meet your luxury real estate clientele where they are and draw them to your other digital assets. The content you post should be entertaining and engaging, and help guide followers to your website, generating leads and conversions. 
4. Boost SEO
Getting people to your website depends largely on search engine optimization (SEO). What many real estate marketers aren't aware of is that SEO can actually be improved by your social media presence. Yes, the content on your website is critical, but having a well-rounded online presence also factors into search engine algorithms and can help you move towards that coveted top spot. 
Sharing your content on social media, for example, helps to build up a network of backlinks, which are one of the top factors that algorithms use to determine search engine rank. Not only that, social media platforms are ideal places to share information about your luxury real estate brand, such as name, address, and phone number. Believe it or not, keeping these simple pieces of information accurate and up to date in multiple locations online strengthens your SEO. 
The bottom line
Luxury real estate marketing is a fiercely competitive field, but used effectively, social media offers a key set of tools to set your brand apart. Invest in a strategic social media marketing campaign, and watch your brand awareness, reputation, and conversion rate grow. 
Related Posts: 
Your search results for "Instagram"
---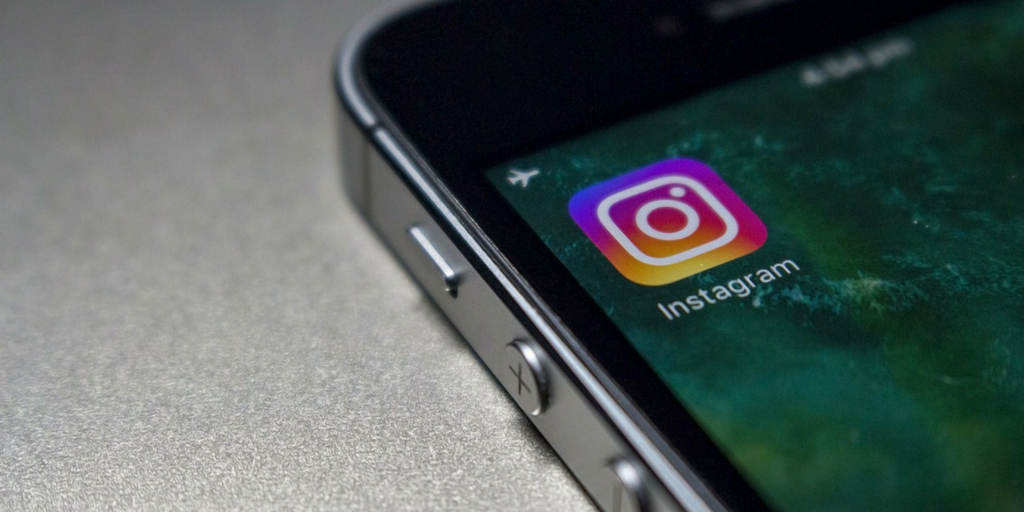 The latest social media statistics show growth of Instagram, social messaging bots, and video content.
We joke around here that one thing that will always stay the same is that social media will always be changing. 2018 has been a remarkable example of that thus far, particularly in regards to platforms like Facebook.
Every so often, we like to take a step back and look at what the data is telling us about where social media is heading and what that might mean for real estate marketers.
Social Media Examiner's 10th annual study, 2018 Social Media Marketing Industry Report, surveyed more than 5,700 marketers from across the world in a variety of industries — including real estate. It offers a really comprehensive view of what's going on in social media in our industry and beyond.
I've pulled out 10 social media statistics from this report that I want to talk about in more depth. I think they say a lot about where social media is headed and what real estate marketers should be paying attention to.
10 social media statistics for real estate marketers
1) For 64% of marketers, social media management is just one of their job responsibilities.
This one blows me away, knowing how much time and effort it takes to run a company's social media program. Only about one-third (36%) of marketers manage social media full time. The other two-thirds have to do that on top of their other responsibilities. That's crazy!
Developers, property managers, and real estate marketers: it's time to recognize how important social media is for marketing your property and dedicate the appropriate resources to social media management. If you can't afford to hire someone to do it full time, consider outsourcing this task.  
2) Only 44% of marketers agree they can measure their social media ROI.
Only 10% of survey respondents "strongly agree" and 34% "agree" with the statement, "I am able to measure the return on investment (ROI) for my social media activities."
Again, I'm kind of blown away. As a firm that relies on data and analytics to inform our processes and strategies, including social, it seems irresponsible to not know if your efforts are effective.
Ok, on one hand, it's actually really difficult to measure social media ROI. That's in large part because so many of the benefits are intangible. You should really be thinking of social media investment in terms of potential, not dollars.
BUT there are some ways to calculate ROI for all your content marketing and social media efforts. Here are a few resources:
3) 75% of marketers have seen a decline in organic Facebook reach over the last year or don't know if they have.
A significant 52% of marketers surveyed said they saw their Facebook reach decline in the last year. Plus, 23% of marketers surveyed were unsure if it had or not — probably not a good sign. Yet 97% of B2C marketers are using Facebook. Something's not adding up for me here.
As we've written about a lot recently, businesses need to be keeping a close eye on Facebook in light of all the recent changes. While we at Fronetics Real Estate are not ready to write off Facebook for business (especially real estate companies) completely yet, it's time to start doing things a little differently.
Here are a few things you should do immediately to ensure you're still reaching your target audience:
Focus on newsworthy content that drives engagement

.

You need to start thinking of Facebook as a place to post and discuss active news items, hot-button issues, and highly shareable content (content that is educational or entertaining, for example).

Tell your community to access the See First feature

.

Users who still want to see posts from certain Pages they follow can choose "See First" in News Feed Preferences. So, quite simply, we suggest asking your followers to choose to see your content.

Consider your ad budget

. Especially for new

properties or those who rely heavily on referral traffic, you might want to consider reallocating budget to sponsored ads.
Stay tuned to the Fronetics blog as we continue to gather information and offer suggestions.
4) 87% of marketers rank more exposure for their businesses as the primary benefit of their social media efforts.
Building brand awareness is a key benefit of social media use for real estate. The Social Media Examiner survey respondents said that increased traffic was the second major benefit, with 78% reporting positive results. These top two benefits have remained virtually unchanged for 4 years.
5) 78% of marketers who have used social media for 2 years or more report increased traffic to their websites.
Also to note, 83% of those who have used social media for 5 or more years "strongly agree" or "agree" that traffic has increased to their websites because of social media activity.
I wanted to pull these social media statistics out because they reinforce the time-honored truth that content marketing (including social media management) is a long-term solution — not an overnight fix. The benefits, especially in terms of metrics like traffic, grow exponentially over time.
You have to allow time for prospects to find you and for your audience to grow organically. Use your social media platforms as a means to distribute meaningful information to your target audience and to communicate with prospects and residents, and it will pay off.
6) 66% of marketers are now using Instagram.
In 2016 and 2017, we answered a lot of questions about Snapchat. Founder of the Content Marketing Institute Joe Pulizzi named Snapchat one of the next big trends in content marketing for 2017. Everyone thought this platform was going to be our new social media darling.
Instead, Instagram has surpassed Twitter and LinkedIn to be the second-most-used social media platform. (It was fourth in 2017.) Use is up dramatically from 54% in 2017. Those are numbers worth paying attention to.
Most of our real estate clients use Instagram with great success.  If you're not on this platform, it's time to join.
7) 63% of marketers use video content in their social media marketing.
One real estate marketing trend everyone got right? The growing prevalence of video.
Not only do nearly two-thirds of marketers use video content in their social media marketing, 23% use live video. What's more, 77% plan to increase video content and 63% plan to increase live video in the next year.
The real estate industry is embracing the power of video marketing. And the good news is, you don't need expensive camera, lighting, or a production studio — your smartphone can be just as effective for creating video content for your social media outlets.
8) 70% of marketers want to learn more about messenger bots.
Here's a big takeaway from the survey: Everyone's talking about messenger bots/social messenger apps. While adoption is still pretty low (only 15% are using Facebook messenger bots now), 51% of survey respondents plan to include them in future marketing.
It's time to start reading up on marketing automation tools like chatbots and social messenger apps. We've got a lot of information about these things scheduled on our blog in the next few months, so keep coming back for more information on how these tools apply to real estate marketing.
9) 39% of marketers are working with influencers.
Influencer marketing is another trend we've been talking about lately. It makes sense: Buyers value the opinions of peers and colleagues. In fact, 82% of Americans seek recommendations when making a purchase of any kind. Such a major purchase like real estate can be greatly influenced by what buyers' peers think of the neighborhood, community or building, etc.
In real estate, it's important to consider other people who might influence buyers and renters. Aside from family and friends, financial advisors, brokers, interior designers, and celebrities (be they local professional athletes or social media celebrities) can have an impact on buyers' opinions of a property.
10) 76% of B2C marketers use Facebook ads.
Interesting that more than three-fourths of B2C brands advertise on Facebook. On one hand, if you're not doing it, do you lose your seat at the table? But on the other, are there opportunities on other advertising platforms that aren't so crowded?
The survey also found that 72% of B2C marketers are interested in learning about Instagram ads. This is likely because of the platform's phenomenal growth and, no doubt, brands' success with it thus far. It's something to think about when planning your social advertising.
If you're interested, I recommend reading the whole 44-page report from Social Media Examiner. There are a ton of really interesting social media statistics that offer great insight into how marketers are using social media and how it's changing — both over the the last few years and in the short-term.
What social media statistics are most interesting to you?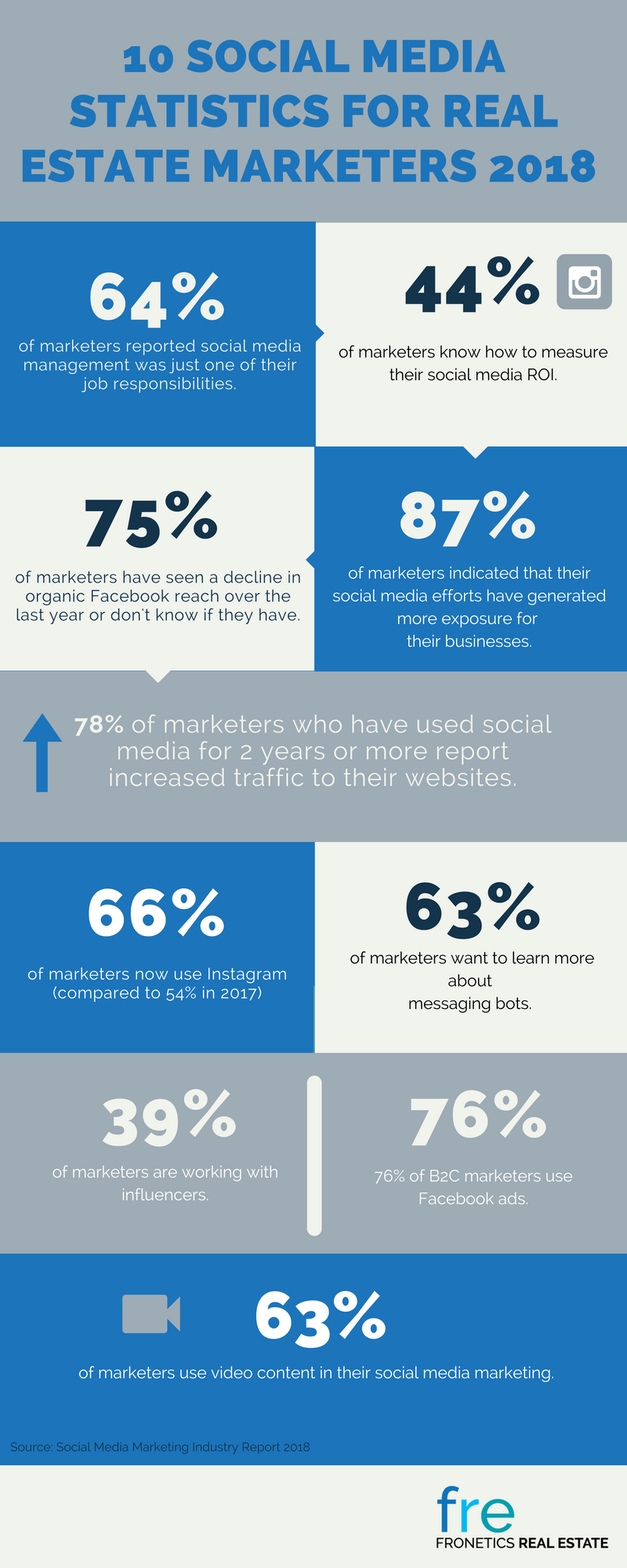 Related posts: