If you're a real estate marketer who's not blogging, you're missing out.
Everyone knows you need a property website to succeed in this industry. But when it comes to making that website competitive, many abandon the brightest idea that would help them in doing so — namely, blogging.
Real estate blogging does its bit for lead generation, SEO, and sales. So if you think your property can thrive without it, you might want to think again.
Search engine visibility
As search engine algorithms get increasingly complex and sophisticated, the quality of your website's content becomes more and more important. It's your content that informs search engines about your site (not just keywords anymore), improving your rank in relevant search queries. And the stats bear it out — according to HubSpot, companies that blog receive 434% more indexed pages on average and 97% more links to their website.
Another fact to consider: according to a recent study by Search Metrics, the average word count of the highest ranking content in Google is between 1,140-1,285 words. In other words, long-form content, like blog posts, is one of the best things you can do to improve your website's SEO.
But don't be fooled into thinking that quantity outranks quality. Simply pumping out a high word count isn't enough. Your content needs to be well-written, thoroughly researched, and engaging.
Lead generation
Blog content is ideal to share (and link to) in email or social media marketing campaigns. It can help undecided leads learn about your properties and sway them in a positive direction. Sharing your blog posts on your social media accounts helps give validity and authority to your company, as you disseminate content you created yourself.
A recent study from the Content Marketing Institute found that 67% more leads are generated by companies with an active blog. Not only that, 81% of U.S. online consumers trust information and advice from blogs. So your blog is your best bet in terms of becoming a trusted resource for your audience — leading directly to more effective lead generation and nurturing.
Sales and relationships
61% of buyers report feeling better about a company that delivers custom content and are therefore more likely to buy from that company. And furthermore, HubSpot reports that 50% of consumer time online is spent engaging with custom content — like blogs. And perhaps most powerfully, 82% of marketers who blog daily acquired a customer using their blog, as opposed to 57% of marketers who blog monthly. Blogging helps you sell real estate, and it helps you build lasting and fruitful relationships with your audience.
Check out our infographic for statistics on why your real estate marketing strategy should include blogging.
Infographic: Why your real estate marketing should include a blog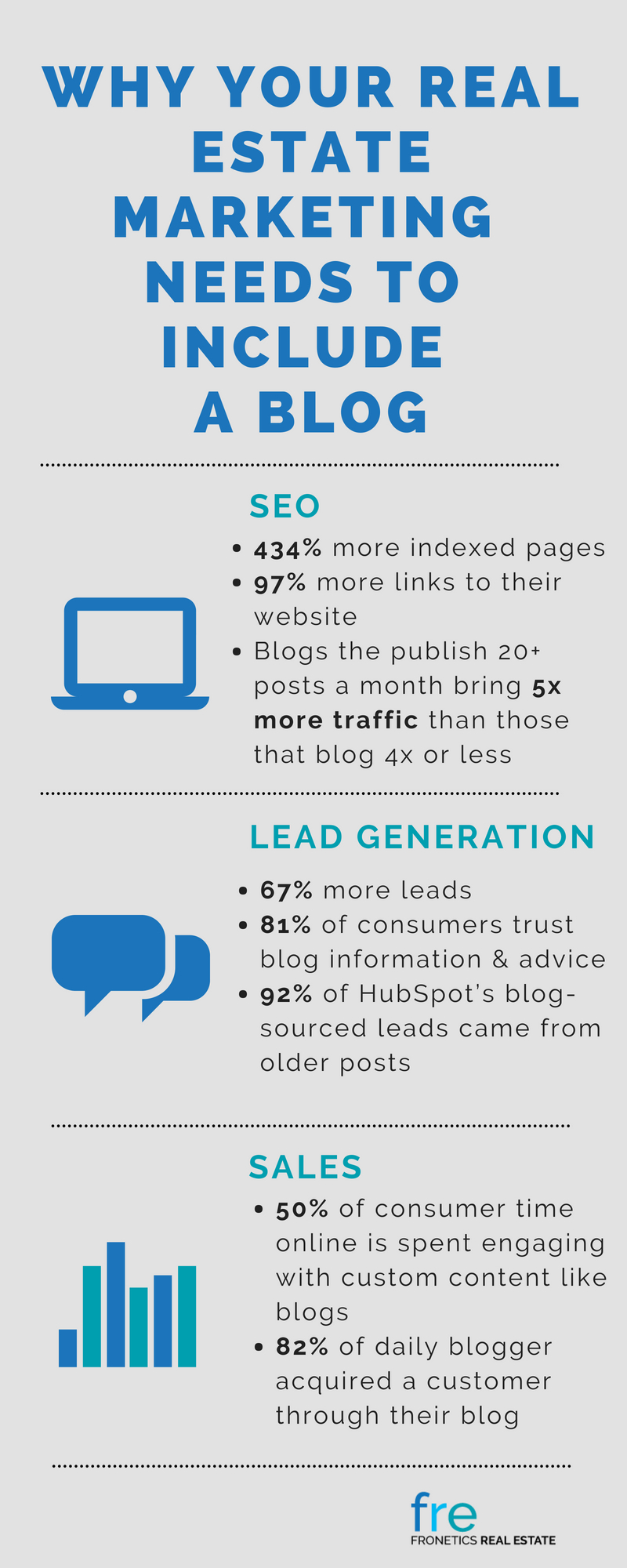 Related posts: