Knowing the right video distribution channels 
for your real estate marketing videos 
can go a long way toward driving traffic and getting your content to your target audience.
---
Highlights: 
Choose video distribution channels that match your marketing goals.

 

Don't underestimate the power of your own network 

—

 use this network as the starting point for distribution.

 

Paid ads can give video an extra boost.

 
---
You made the leap and embraced video marketing, the latest trend in digital marketing. The videos are informative and show what makes your brand unique, BUT they are not getting the views or shares you were expecting.  
After dedicating your time and hard work (not to mention, marketing dollars), you want to make sure your real estate marketing videos are getting in front of your target audience and helping move buyers down the sales funnel.  How can you do that? The answer is distribution.  
Choosing the right platform (or platforms) to distribute your videos will help boost reach and ROI. But how do you know what platforms are right for you? Platforms and marketing trends are constantly changing; it's hard to know which distribution channels are best for your target audience. Let us help. 
Here are the four best 
video distribution channels for 
your 
real estate 
marketing videos.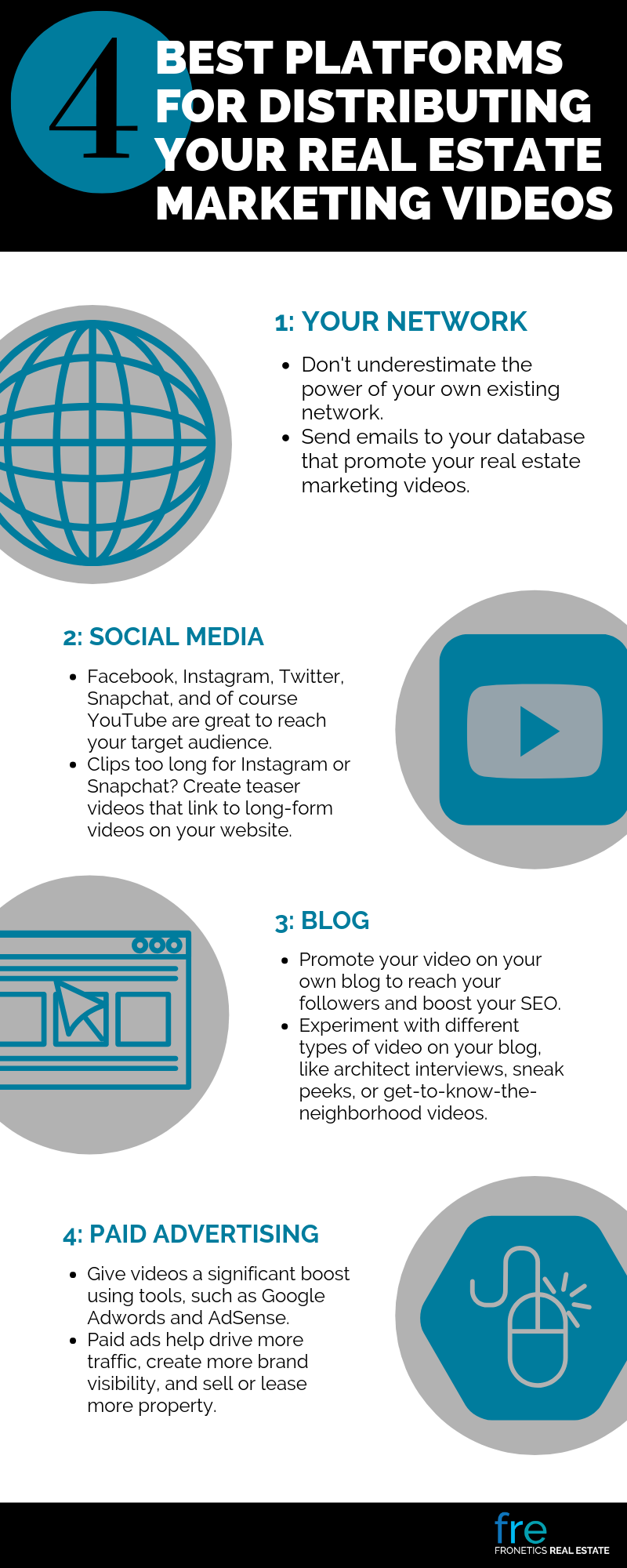 1. Your network
Don't underestimate the power of your own existing network. Send your videos, via email, to your primary contacts and everyone in your current database. In a recent study, emails with video had a 96% higher click-through rate than emails without video. With such increased engagement numbers, including video in your emails is surely a homerun.   
2. Social media
Platforms like Facebook, Instagram, Twitter, Snapchat, and — of course — YouTube are great to reach your target audience. Within the social media category, you want to consider which platforms suit your content best. YouTube is a great place to start, but there are also many real estate specific online forums and social groups that can benefit you as well. 
And don't worry if you have longer videos that won't work for platforms like Instagram. You can easily create teaser videos for promotion on Instagram that link to your long-form videos embedded on your website or video channel. 
3. Blogs
Blogs are one of the easiest ways to drive organic traffic and increase lead generation. Promote your video on your own blog to reach your followers and boost your SEO. Blogs are also a great place to experiment with different types of marketing videos. Whether video tutorials, interviews, or even "Get to Know Us" videos, your blog is great place to capitalize on your videos by integrating them into your existing marketing efforts.  
4. Paid ads
While the first three video distribution channels that we discussed are organic, sometimes it is well worth it to use paid ads to give your videos a significant boost, such as Google Ads. Paid ads help get your videos in front of prospective buyers and renters faster than would happen organically. Pair quality video with a comprehensive digital advertising strategy, and you will be in a position to drive more traffic, create more brand visibility, and sell or lease more properties. 
Bottom line
We live in a highly visual world. Real estate marketing with video is an immediate and effective way to reach your audience and show them what makes your brand and properties special. Using the right video distribution channels helps you get the most out of your video marketing efforts.  
Related posts: