Your search results for "Social media"
---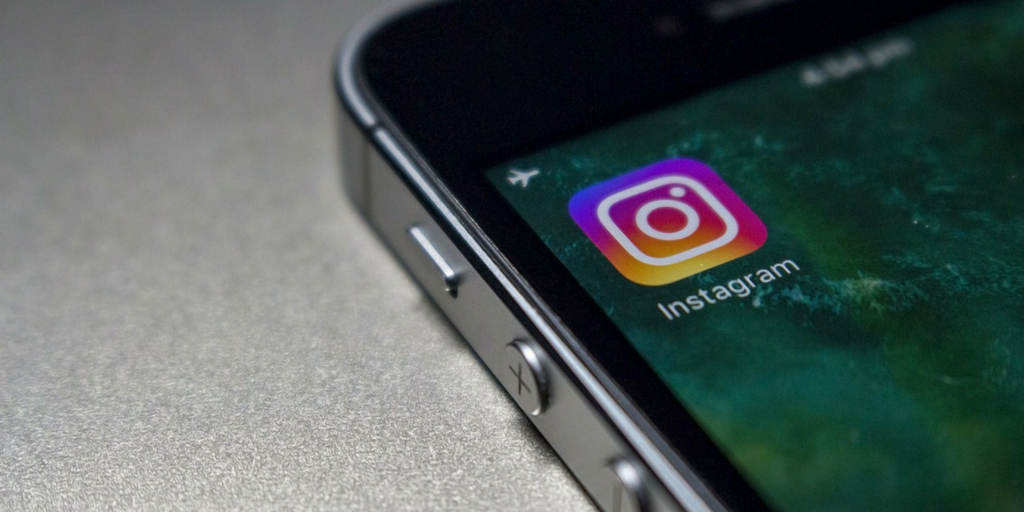 The latest social media statistics show growth of Instagram, social messaging bots, and video content.
We joke around here that one thing that will always stay the same is that social media will always be changing. 2018 has been a remarkable example of that thus far, particularly in regards to platforms like Facebook.
Every so often, we like to take a step back and look at what the data is telling us about where social media is heading and what that might mean for real estate marketers.
Social Media Examiner's 10th annual study, 2018 Social Media Marketing Industry Report, surveyed more than 5,700 marketers from across the world in a variety of industries — including real estate. It offers a really comprehensive view of what's going on in social media in our industry and beyond.
I've pulled out 10 social media statistics from this report that I want to talk about in more depth. I think they say a lot about where social media is headed and what real estate marketers should be paying attention to.
10 social media statistics for real estate marketers
1) For 64% of marketers, social media management is just one of their job responsibilities.
This one blows me away, knowing how much time and effort it takes to run a company's social media program. Only about one-third (36%) of marketers manage social media full time. The other two-thirds have to do that on top of their other responsibilities. That's crazy!
Developers, property managers, and real estate marketers: it's time to recognize how important social media is for marketing your property and dedicate the appropriate resources to social media management. If you can't afford to hire someone to do it full time, consider outsourcing this task.  
2) Only 44% of marketers agree they can measure their social media ROI.
Only 10% of survey respondents "strongly agree" and 34% "agree" with the statement, "I am able to measure the return on investment (ROI) for my social media activities."
Again, I'm kind of blown away. As a firm that relies on data and analytics to inform our processes and strategies, including social, it seems irresponsible to not know if your efforts are effective.
Ok, on one hand, it's actually really difficult to measure social media ROI. That's in large part because so many of the benefits are intangible. You should really be thinking of social media investment in terms of potential, not dollars.
BUT there are some ways to calculate ROI for all your content marketing and social media efforts. Here are a few resources:
3) 75% of marketers have seen a decline in organic Facebook reach over the last year or don't know if they have.
A significant 52% of marketers surveyed said they saw their Facebook reach decline in the last year. Plus, 23% of marketers surveyed were unsure if it had or not — probably not a good sign. Yet 97% of B2C marketers are using Facebook. Something's not adding up for me here.
As we've written about a lot recently, businesses need to be keeping a close eye on Facebook in light of all the recent changes. While we at Fronetics Real Estate are not ready to write off Facebook for business (especially real estate companies) completely yet, it's time to start doing things a little differently.
Here are a few things you should do immediately to ensure you're still reaching your target audience:
Focus on newsworthy content that drives engagement

.

You need to start thinking of Facebook as a place to post and discuss active news items, hot-button issues, and highly shareable content (content that is educational or entertaining, for example).

Tell your community to access the See First feature

.

Users who still want to see posts from certain Pages they follow can choose "See First" in News Feed Preferences. So, quite simply, we suggest asking your followers to choose to see your content.

Consider your ad budget

. Especially for new

properties or those who rely heavily on referral traffic, you might want to consider reallocating budget to sponsored ads.
Stay tuned to the Fronetics blog as we continue to gather information and offer suggestions.
4) 87% of marketers rank more exposure for their businesses as the primary benefit of their social media efforts.
Building brand awareness is a key benefit of social media use for real estate. The Social Media Examiner survey respondents said that increased traffic was the second major benefit, with 78% reporting positive results. These top two benefits have remained virtually unchanged for 4 years.
5) 78% of marketers who have used social media for 2 years or more report increased traffic to their websites.
Also to note, 83% of those who have used social media for 5 or more years "strongly agree" or "agree" that traffic has increased to their websites because of social media activity.
I wanted to pull these social media statistics out because they reinforce the time-honored truth that content marketing (including social media management) is a long-term solution — not an overnight fix. The benefits, especially in terms of metrics like traffic, grow exponentially over time.
You have to allow time for prospects to find you and for your audience to grow organically. Use your social media platforms as a means to distribute meaningful information to your target audience and to communicate with prospects and residents, and it will pay off.
6) 66% of marketers are now using Instagram.
In 2016 and 2017, we answered a lot of questions about Snapchat. Founder of the Content Marketing Institute Joe Pulizzi named Snapchat one of the next big trends in content marketing for 2017. Everyone thought this platform was going to be our new social media darling.
Instead, Instagram has surpassed Twitter and LinkedIn to be the second-most-used social media platform. (It was fourth in 2017.) Use is up dramatically from 54% in 2017. Those are numbers worth paying attention to.
Most of our real estate clients use Instagram with great success.  If you're not on this platform, it's time to join.
7) 63% of marketers use video content in their social media marketing.
One real estate marketing trend everyone got right? The growing prevalence of video.
Not only do nearly two-thirds of marketers use video content in their social media marketing, 23% use live video. What's more, 77% plan to increase video content and 63% plan to increase live video in the next year.
The real estate industry is embracing the power of video marketing. And the good news is, you don't need expensive camera, lighting, or a production studio — your smartphone can be just as effective for creating video content for your social media outlets.
8) 70% of marketers want to learn more about messenger bots.
Here's a big takeaway from the survey: Everyone's talking about messenger bots/social messenger apps. While adoption is still pretty low (only 15% are using Facebook messenger bots now), 51% of survey respondents plan to include them in future marketing.
It's time to start reading up on marketing automation tools like chatbots and social messenger apps. We've got a lot of information about these things scheduled on our blog in the next few months, so keep coming back for more information on how these tools apply to real estate marketing.
9) 39% of marketers are working with influencers.
Influencer marketing is another trend we've been talking about lately. It makes sense: Buyers value the opinions of peers and colleagues. In fact, 82% of Americans seek recommendations when making a purchase of any kind. Such a major purchase like real estate can be greatly influenced by what buyers' peers think of the neighborhood, community or building, etc.
In real estate, it's important to consider other people who might influence buyers and renters. Aside from family and friends, financial advisors, brokers, interior designers, and celebrities (be they local professional athletes or social media celebrities) can have an impact on buyers' opinions of a property.
10) 76% of B2C marketers use Facebook ads.
Interesting that more than three-fourths of B2C brands advertise on Facebook. On one hand, if you're not doing it, do you lose your seat at the table? But on the other, are there opportunities on other advertising platforms that aren't so crowded?
The survey also found that 72% of B2C marketers are interested in learning about Instagram ads. This is likely because of the platform's phenomenal growth and, no doubt, brands' success with it thus far. It's something to think about when planning your social advertising.
If you're interested, I recommend reading the whole 44-page report from Social Media Examiner. There are a ton of really interesting social media statistics that offer great insight into how marketers are using social media and how it's changing — both over the the last few years and in the short-term.
What social media statistics are most interesting to you?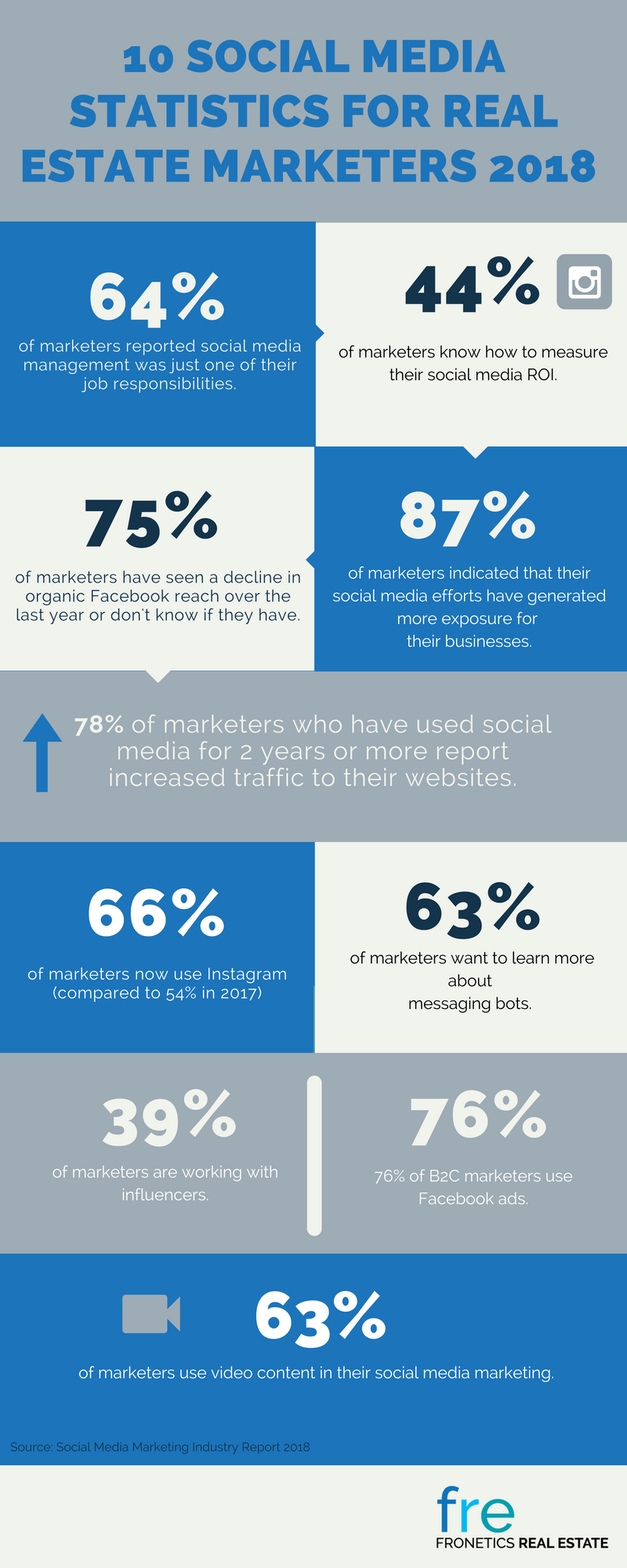 Related posts:
Your search results for "Social media"
---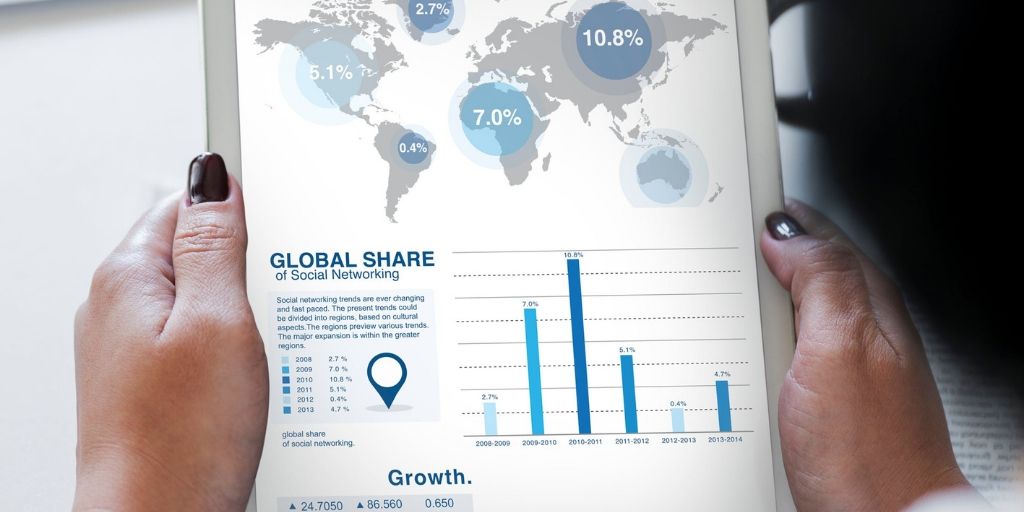 Social media is a natural fit for real estate marketing. Here are five social media
 stats
that prove your real estate brand needs to be active on social media.
---
Highlights: 
3.5 billion people will use social media networks this year.

 

Real

 estate marketers can take advantage of detailed targeting available

 through Facebook.

 

Real estate marketers 

who 

are succeeding on social media are finding innovative and creative ways to relate to users and showcase their property

.

 
---
Social media has changed the world as we know it. From connecting with old friends to up–to–the–minute news coverage, social platforms are a constant in 2019. In fact, it's estimated that 3.5 billion people will use social media networks this year.  
With those kinds of numbers, it's easy to understand why businesses are heavily investing in digital marketing on social platforms. Consider some more social media stats: a recent survey found that 73% of small businesses are investing in social media marketing.   
We've talked a lot about the importance of social advertising and we're sticking by it. The combination of paid and organic advertising on sites like LinkedIn and Twitter can help get your property in front of the right audiences.  
We know that social media posts are time–consuming, whether you're creating original content or curating posts. This can play a big role in marketers sticking to more traditional advertising methods. But if you're looking to target specific audiences and run ads that speak to them directly, the social media stats speak for themselves. 
Here 
are
5
 social media stats and how they can affect your digital marketing strategy.
Despite all the headlines in the last year, Facebook is still the most popular social media platform out there. And marketers shouldn't ignore this platform when advertising properties. Aside from Facebook's popularity, real estate marketers can take advantage of detailed targeting available through the social platform's paid advertising options. After determining the goal of your campaign, you can set key targeting options and make sure your ads are getting in front of the right audience.  
Millennials use social media more than any other age group and the majority of them access social media on their phones. This is crucial information for real estate marketers trying to understand the buyer's journey and determining what platforms will work best for their audience. For example, are they trying to lease apartments near a college or university? Knowing that Instagram is the fastest growing platform or that messaging apps are the most popular form of communication amongst millennials is key.  
According to a survey by Digital Information World, internet users are now spending an average of 2 hours and 22 minutes per day on social networking and messaging platforms. And that's a lot of opportunity for marketers to showcase properties. Don't miss out on organic (and paid) searches for properties. Make sure to post your blogs, photos, and virtual tours to your social media pages to expand your reach. 
Social media is one of the most cost-effective ways to market your property, engage with audiences, and establish brand loyalty among customers. Tracking your social media efforts is key to optimizing your strategy and tweaking your plan to increase performance. Gauge the effectiveness of your social media strategy using these data points that reflect your digital marketing objectives. 
Social media is all about engagement. Users don't want to engage with brands that are pushing their properties. Users want informative, interesting, and, yes, even fun content. Real estate marketers who succeed on social media are finding innovative and creative ways to relate to users and showcase their property so that social browsers are drawn to your content. 
These social media stats prove excelling at social media could pay off for your real estate brand. What does it take to become a whiz? Keep reading our blog or contact us to learn more.  
Related posts: 
Your search results for "Social media"
---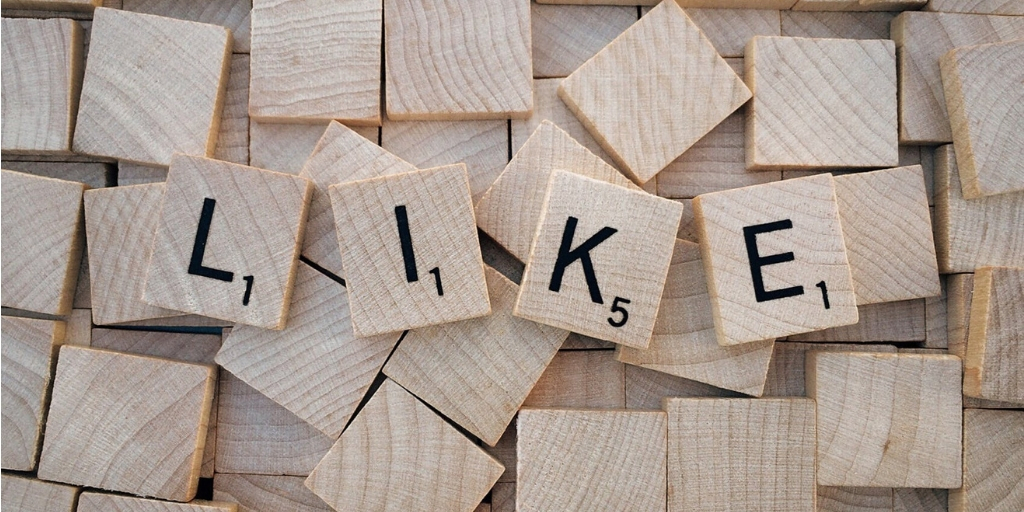 Here are Fronetics Real Estate's most viewed social media marketing posts from the past 12 months. 
We all know real estate marketing is increasingly intertwined with social media. These platforms are extremely powerful ways to engage with potential buyers and renters, and to reach new audiences. At Fronetics Real Estate, we write a lot about how to use social media for real estate marketing.  
These are our top 10 social media posts from 2018.
1. 10 Social Media Statistics for Real Estate Marketers 2018
No matter what happens, we can always count on one thing to stay the same: Social media will always be changing. 2018 has been a remarkable example of that thus far, particularly in regard to platforms like Facebook. Every so often, we like to take a step back and look at what the data is telling us about where social media is heading and what that might mean for real estate marketers. Read more.  
2. How Will Facebook Marketplace Housing Affect Real Estate Marketers?
If you're a real estate marketer, Facebook's newest foray into the social marketplace is likely to impact your strategy. In November, the 'Book announced it would begin allowing users to search for housing rentals and sales on its Marketplace platform. For those who are unfamiliar, Marketplace is Facebook's answer to Craigslist — a platform that lets users buy and sell items near them. Read more.  
3. Social Media Trends for 2018 Real Estate Marketers Need to Know
If there's one thing real estate marketers can be sure of in the coming year, it's that social media will continue to dominate the marketing landscape. Social media presents tremendous opportunity, particularly if you're aware of upcoming trends. Read more.  
4. How to Use Social Media Hashtags in Real Estate Marketing
You're likely to be vaguely aware of hashtags, at least in your personal social media life. But perhaps you're not intimately familiar with how they can play into your real estate marketing strategy. Whether you #lol at it or not, using social media hashtags wisely can actually be a major boon to your social media marketing efforts. Read more.  
5. A Visual Guide to Social Media Posting Frequency for Real Estate
"Content is king, but distribution is queen and she wears the pants." These are wise words from BuzzFeed's Jonathan Perelman, indicating that creating interesting and pertinent content is just half the battle. To reach your target buyer or tenant, raise brand awareness for your property, and drive sales, your content needs to be delivered consistently over time, at the right time, and on the right platform. Read more.  
6. 4 Things to Do in Light of Facebook News Feed Changes
Mark Zuckerberg once again rocked the world on Jan. 11 — at least for businesses — when he announced that the Facebook News Feed was evolving to include less public content, meaning content from Pages of businesses, brands, and media. The algorithm will now prioritize posts from friends and family (over public posts) and those that "spark conversations and meaningful interactions between people." Read more.  
7. Should I Be Using Facebook Carousel Ads?
Facebook carousel ads offer a highly visual and engaging way to promote your properties. Not only that, Kinetic Social recently found that carousel ads are up to 10 times more effective than static sponsored Facebook posts at driving traffic to advertisers' websites. And if that's not enough, they boast a 72% higher click-through rate than single-image mobile app ads. Read more.  
8. 5 Real Estate Instagram Accounts You Should be Following
Instagram remains an emerging platform for real estate professionals, and, given its overall popularity, it's puzzling that it hasn't taken over the real estate marketing world. With the majority of real estate searches beginning online, social media is an ideal way to showcase listings. Read more.  
9. Must-Know Social Media Strategies for Real Estate
Real estate is a people business. That's why you should leverage a marketing tool that is also all about people: social media. If you have not begun developing social media strategies for your real estate business, now is the time to get started. Consider for a minute that in 2017, 81% of Americans had at least one social media profile. And the numbers are projected to continue skyrocketing: by 2020, 200 million people just in the U.S. are estimated to be on social media. Read more.  
10. Measure Social Media Success in Terms of Potential, not Dollar Amount
One of the trickiest things about implementing a social media strategy is that social media success can be difficult to measure. While most real estate professionals acknowledge that a social media marketing presence is important, it's hard to make a case for resources when you can't precisely quantify the value in terms of dollar amount. Read more. 
Stay with us in 2019 for the latest on social media real estate marketing. Which posts will you find the most useful and interesting?  
Related posts:
Your search results for "Social media"
---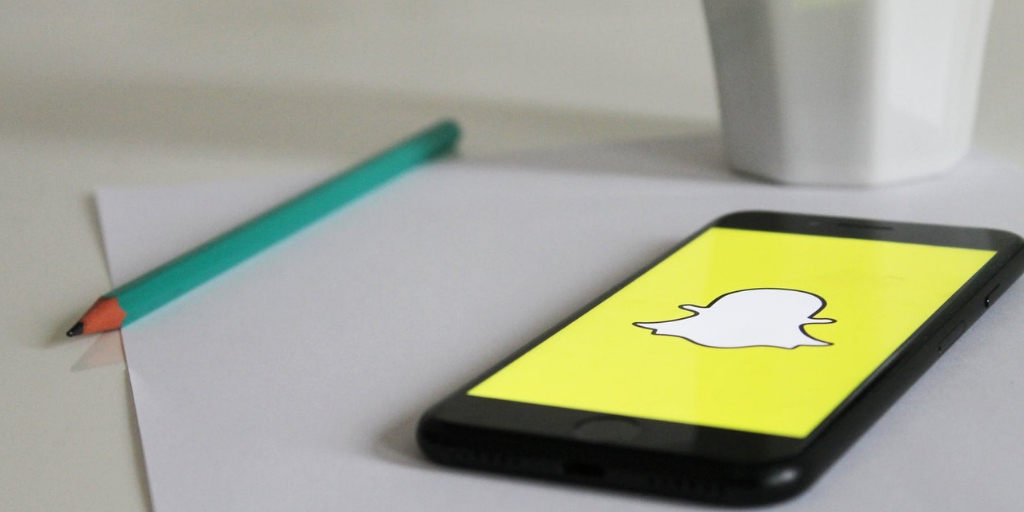 Social media for real estate marketing is one of the most powerful tools out there. Our infographic will help you figure out the best social media marketing strategies—and the mistakes to avoid.
We've said it before, and we'll say it again: real estate marketing and social media are a match made in heaven — when used correctly. With the right strategies, using social media for real estate marketing is a great way to start a conversation, exchange advice, and create a lasting relationship with prospects.  
We can't stress enough that to be effective, social media needs to be done right. Bubba Mills, chief executive officer of Corcoran Consulting & Coaching advises, "done right, social media can increase your trips to the bank. Done poorly, it can drive you to the poor house." Take a look at our infographic with social media do's and don'ts for real estate marketers.  
What you should be doing: social media marketing strategies
Promote the community, not just your properties
Renters, buyers, and investors are looking for more than just a property — they want to know something about the place they're considering living or investing in. Too many real estate blogs just skim the surface of what communities have to offer. Making use of social media platforms to give potential buyers a nuanced understanding of your community is a great way to engage with prospects and promote your properties. 
Be authentic
Social media for real estate marketing is all about the personal. Users on these platforms are looking to connect with the real people behind the brands they follow. Part of building your brand is about discovering and cultivating your "corporate personality," particularly when it comes to social media. Find your brand's voice, and let it shine through. 
Educate your prospects
You may not expect it, but social media users actually like educational content. According to the 2018 Sprout Social Index, 59% of customers express greater trust for "posts that teach" on social media. Educating your audience is also at the core of content marketing — at the end of the day, your knowledge and expertise is your most valuable commodity — even more so than your properties. Use your social media for real estate marketing to share content that's valuable to potential buyers and renters, whether it's buying guides, case studies, or local statistics. 
Engage with your followers
It may seem painful obvious, but too many real estate marketers forget that social media is just that: social. When followers engage with your posts, always reply! Encourage comments and shares, and join the conversation. Not only is it a great way to cultivate a loyal following, but you can also gain valuable insights into your audience's preferences. 
Diversify across platforms
While Facebook still reigns supreme in the social media universe, if you aren't connecting with users on other platforms, you're missing out on huge opportunities. While each platform requires its own content and posting strategy, you're essentially presenting your brand identity from the various angles allowed by different platforms. Not only that, using multiple social media platforms helps improve your search engine rankings.   
Steer clear of these practices
Overzealous advertising
Nobody likes pushy sales language, especially on social media. Steer clear of posts that do nothing but overtly promote your properties. Instead, focus on educating your audience, and answering their questions. 
Forgetting the visual
Social media is all about the visual, especially video. Be sure to include relevant images with posts and use video whenever possible.  
Assuming that just because you're online, offline rules don't apply
It may seem obvious, but it's all too often forgotten. This is a good rule, and an easy metric by which to judge any content before posting: Your interactions online should measure up to professional interactions you would have in person. 
Reposting without checking
Re-posting content that's of interest to your audience is a great way to promote discussion and engagement. But don't get sloppy. Remember that even if content didn't start with you, if it's posted on your company's social media accounts, it represents your brand and properties. Make sure content is well-researched and from reliable sources. Want to re-post something controversial? Just be sure to include a disclaimer or explanation in your post. 
Forgetting about emotional intelligence
Never forget that behind every social media account is a human being. The bottom line: bring emotional intelligence to your social media management. Take the time to address any issues with compassion and understanding.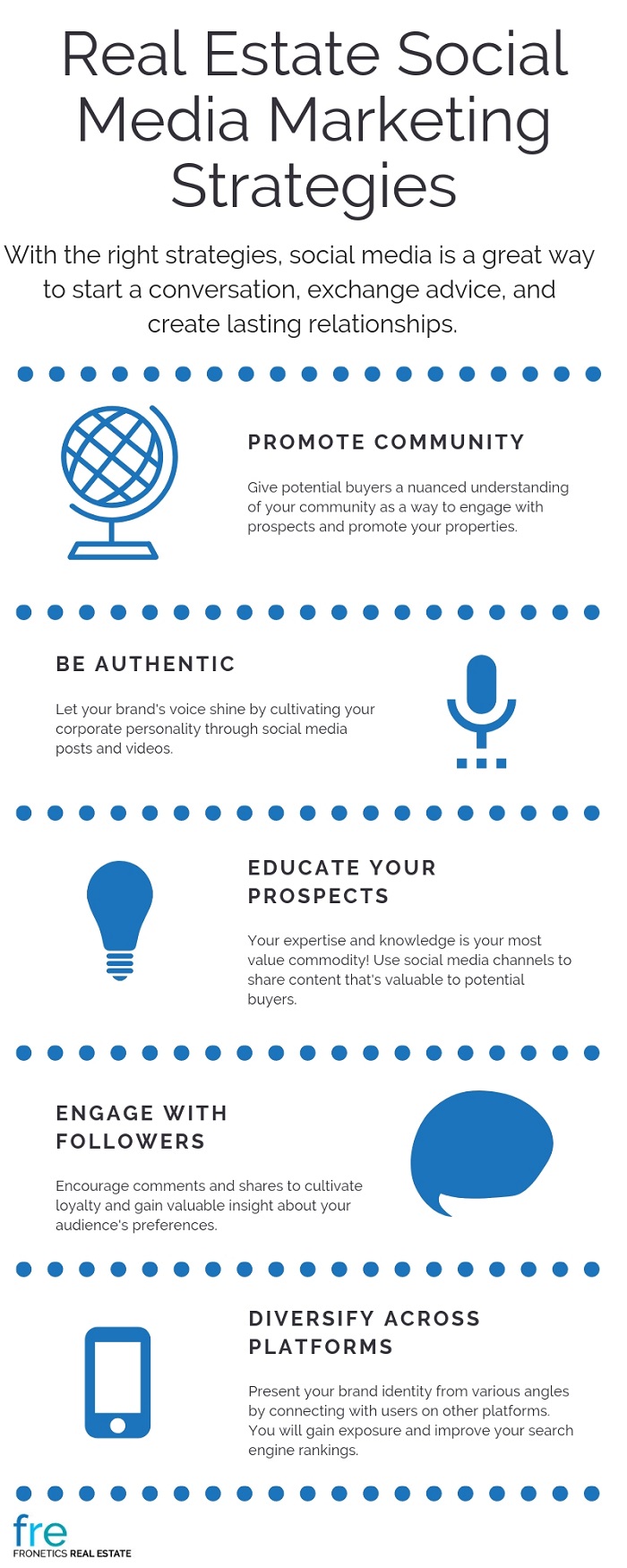 The takeaway
With the right strategies, social media is an extremely effective tool for real estate marketers to promote their brand and properties. But it does require a significant investment of time, resources, and creativity. Start connecting with your audience, and watch your brand grow.
Related posts:
Your search results for "Social media"
---
Social media is a valuable tool for real estate businesses, but only if they use it to their best advantage and avoid these three common mistakes.
---
Highlights:
By 2019, there will be an estimated 2.77 billion social media users around the globe.
It's imperative for real estate businesses to have a clear strategy that includes types of content, frequency, and pillar topics.
Real estate companies need to focus on creating content that leaves their users wanting more.

 
---
As many as 81% of small and medium businesses use a social platform. And we all understand why. By 2019, there will be an estimated 2.77 billion social media users around the globe. That's a lot of potential customers. 
So, there's no question as to why real estate companies are jumping on the social media bandwagon. And there's no disputing social media is an effective way to increase brand awareness and generate leads. But it can be fairly useless if your company isn't doing it right. 
Top three social media mistakes real estate companies still make
Mistake #1: Using objectives instead of strategy
Social media platforms are continually making changes and updates to improve the user experience. In order to weather these changes and keep your audience engaged, it's imperative to have a clear strategy that includes types of content, frequency, and pillar topics. Posts should reflect your real estate brand, so make sure posts follow style guidelines and reflect your specific tone. 
A strategy will also help prove ROI. Social Media Examiner's 2018 Social Media Marketing Industry Report found that only 44% of marketers agree that they know how to measure social media ROI. That means two-thirds of marketers don't know whether or how much their marketing efforts are paying off when it comes to the use of social media. A strategy that incorporates defined goals, tracking and measuring will help prove data-driven ROI and improve your social media presence. 
Mistake #2: Using the most popular social media platforms
Not all social media platforms are created equal. In fact, all social media channels have different qualities that make them appeal to specific audiences. Start by identifying which platform your target audience is the most likely to seek out. For example, 81% of millennials view their Twitter account on a daily basis. If your company is looking to capture millennials as leads, your social media efforts should certainly include Twitter. 
Once you've determined where you should be posting, concentrate on creating content that caters to those specific platforms. Lots of companies post the same content across all of the apps they use. We understand how easy that is for marketers, especially with automation tools. But the foundation of social engagement is authenticity, something that is hard to achieve when posts are the same across all channels. Work to create content — including video and images of properties — that caters to specific platforms to build brand awareness and loyalty. 
Mistake #3: Promoting instead of connecting
Social media is all about engagement. Users don't want to engage with brands that are pushing their properties. Users want informative, interesting, and yes, even fun content. Real estate companies need to focus on creating content that leaves their users wanting more. 
Companies that are succeeding on social media are finding innovative and creative ways to relate to users. When you engage and get users involved in your story, you create long-lasting customer relationships. Storytelling creates an emotional bond with your company and drives brand loyalty. 
Greg Hadden, executive creative director of Motive Made Studios, sums up the power of connecting with users: "What often gets lost is the fact that good storytelling is potent stuff. It has the power to make people want to believe and to belong, which is the goal of all storytellers. We're all selling something, be it an idea, an exploration of the human condition, or say, a vacuum cleaner. It's no mistake perhaps that good stories often create products." 
Final thoughts
Social media platforms are a powerful resource that can help your real estate business grow. But they have to be used correctly. Creating a documented strategy will help shape your brand's social media presence and give you milestones to test and tweak your progress. Need help creating a social media strategy? Let us help. 
Related posts: