Your search results for "Video marketing"
---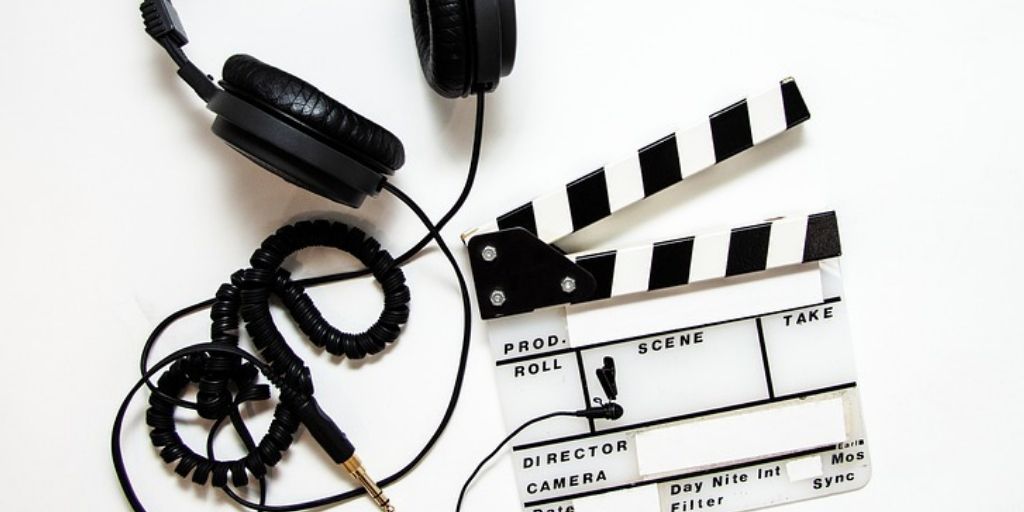 Here's why video marketing is essential to developing your real estate brand and how to make video marketing work for you. 
---
Highlights:
A majority of marketing professionals already use video — 87% consider it one of their marketing tools

Video marketing is an excellent way to bring a powerful, sales-driven message to life.

A host of positive factors justify an extended effort into the creation of valuable video content.
---
It's no secret that video marketing has an integral role to play in any well-rounded marketer's toolkit. No matter what you're selling — using videos as an avenue to create content, promote products and services, and connect with your audience is well-known to boost sales and increase brand awareness. 
Perhaps the easiest way to illustrate the potential of video marketing lies in hard statistics. We've rounded up a few of the most notable ones here to drive home just how hungry consumers are for video content: 
It's evident that audiences love video — and savvy marketers have already caught on. Below, we've outlined how an effective video marketing strategy can help contribute to the development of your real estate brand. Whether you're crunching numbers or considering your brand's reach in a less tangible way, it's virtually impossible to speak about marketing success without including video.  
How Video Marketing Contributes to the Development of Your Real Estate Brand
Bringing your value proposition to life     
Your value proposition helps paint a picture of how your services solve customers' problems. This establishes relevancy. It's also responsible for providing your audience with a quantified value, or an explanation of specific benefits that your brand delivers. Finally, it explains why clients should work with you instead of turning to your competition. 
Video marketing is an excellent way to bring this powerful, sales-driven message to life. We can communicate much more quickly and effectively via video (which allows us to leverage visuals and audio) than through writing. Through video, you can show future clients exactly what they have to gain from working with you.  
Increased brand awareness   
Brand awareness is integral to business success. You want potential clients and customers to heavily associate your brand and properties with something positive, useful, or necessary — this not only positions you as an ideal choice when it comes time to get to work, but it ensures that your audience will be able to recall your existence later, too.  
If you leverage video marketing properly, you can strengthen your brand message, promote your name, and increase brand awareness. Sticking to content that abides by, or expands upon, your value proposition helps make this easy to achieve.  
Lower costs per lead 
Marketing can get expensive fast. As price-per-lead creeps up, the monetary payoff of the effort you put in behind the computer screen or camera starts to nosedive. Video marketing makes for an ideal lead acquisition strategy because it has an exceptionally low cost-per-lead.  
Other marketing methods like SEO, retargeting, and email marketing often run cheaper, but are not always as effective or take longer to pay off. Today's consumers want their options laid out in front of them — not clogging up email inboxes or hiding five pages deep in search engine results pages. 
No matter your reason for exploring your video marketing options, a host of positive factors justify an extended effort into the creation of valuable video content. Your clients and customers will love getting a more intimate view of your brand, while your sales and marketing teams will funnel their efforts into marketing that's both engaging and profitable. 
Related posts: 
Your search results for "Video marketing"
---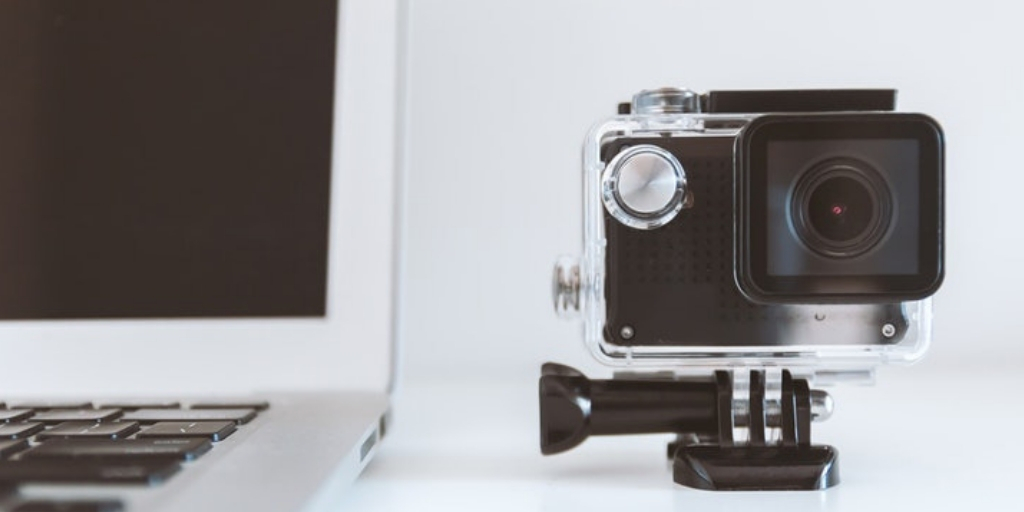 Knowing the right video distribution channels 
for your real estate marketing videos 
can go a long way toward driving traffic and getting your content to your target audience.
---
Highlights: 
Choose video distribution channels that match your marketing goals.

 

Don't underestimate the power of your own network 

—

 use this network as the starting point for distribution.

 

Paid ads can give video an extra boost.

 
---
You made the leap and embraced video marketing, the latest trend in digital marketing. The videos are informative and show what makes your brand unique, BUT they are not getting the views or shares you were expecting.  
After dedicating your time and hard work (not to mention, marketing dollars), you want to make sure your real estate marketing videos are getting in front of your target audience and helping move buyers down the sales funnel.  How can you do that? The answer is distribution.  
Choosing the right platform (or platforms) to distribute your videos will help boost reach and ROI. But how do you know what platforms are right for you? Platforms and marketing trends are constantly changing; it's hard to know which distribution channels are best for your target audience. Let us help. 
Here are the four best 
video distribution channels for 
your 
real estate 
marketing videos.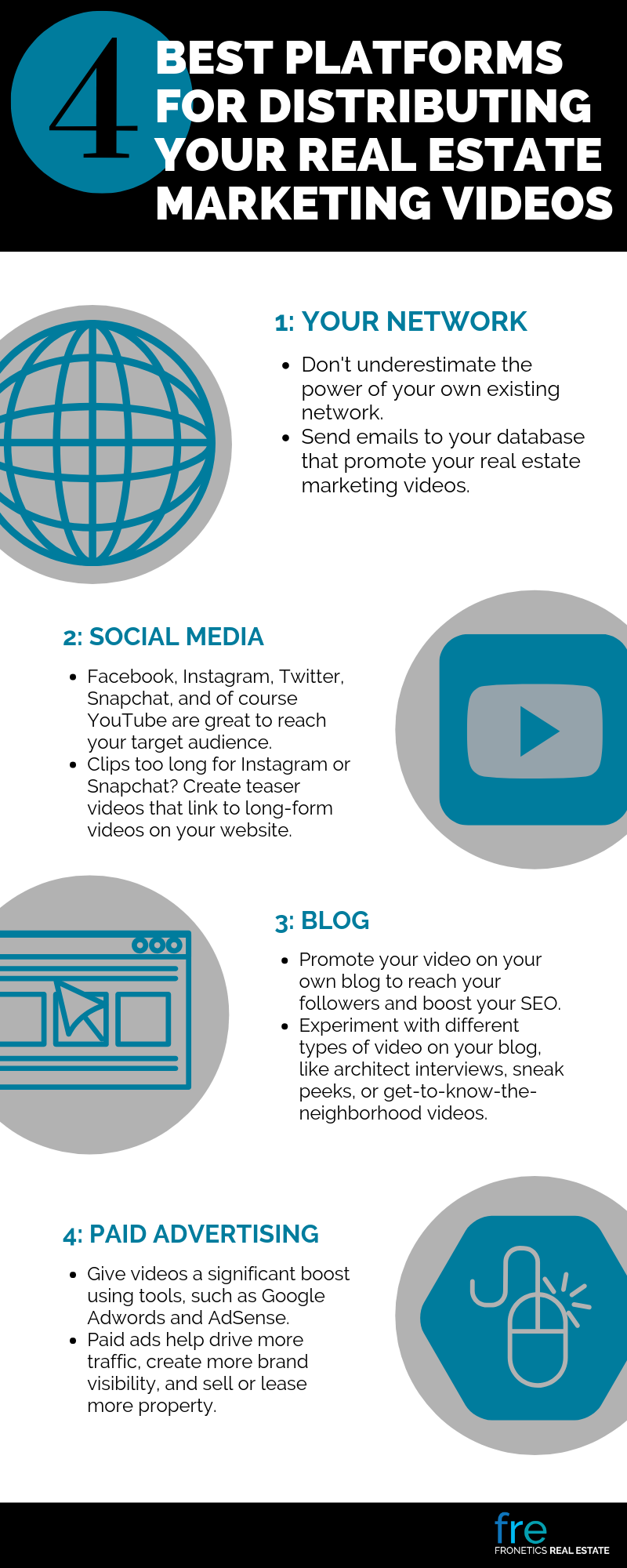 1. Your network
Don't underestimate the power of your own existing network. Send your videos, via email, to your primary contacts and everyone in your current database. In a recent study, emails with video had a 96% higher click-through rate than emails without video. With such increased engagement numbers, including video in your emails is surely a homerun.   
2. Social media
Platforms like Facebook, Instagram, Twitter, Snapchat, and — of course — YouTube are great to reach your target audience. Within the social media category, you want to consider which platforms suit your content best. YouTube is a great place to start, but there are also many real estate specific online forums and social groups that can benefit you as well. 
And don't worry if you have longer videos that won't work for platforms like Instagram. You can easily create teaser videos for promotion on Instagram that link to your long-form videos embedded on your website or video channel. 
3. Blogs
Blogs are one of the easiest ways to drive organic traffic and increase lead generation. Promote your video on your own blog to reach your followers and boost your SEO. Blogs are also a great place to experiment with different types of marketing videos. Whether video tutorials, interviews, or even "Get to Know Us" videos, your blog is great place to capitalize on your videos by integrating them into your existing marketing efforts.  
4. Paid ads
While the first three video distribution channels that we discussed are organic, sometimes it is well worth it to use paid ads to give your videos a significant boost, such as Google Ads. Paid ads help get your videos in front of prospective buyers and renters faster than would happen organically. Pair quality video with a comprehensive digital advertising strategy, and you will be in a position to drive more traffic, create more brand visibility, and sell or lease more properties. 
Bottom line
We live in a highly visual world. Real estate marketing with video is an immediate and effective way to reach your audience and show them what makes your brand and properties special. Using the right video distribution channels helps you get the most out of your video marketing efforts.  
Related posts: 
Your search results for "Video marketing"
---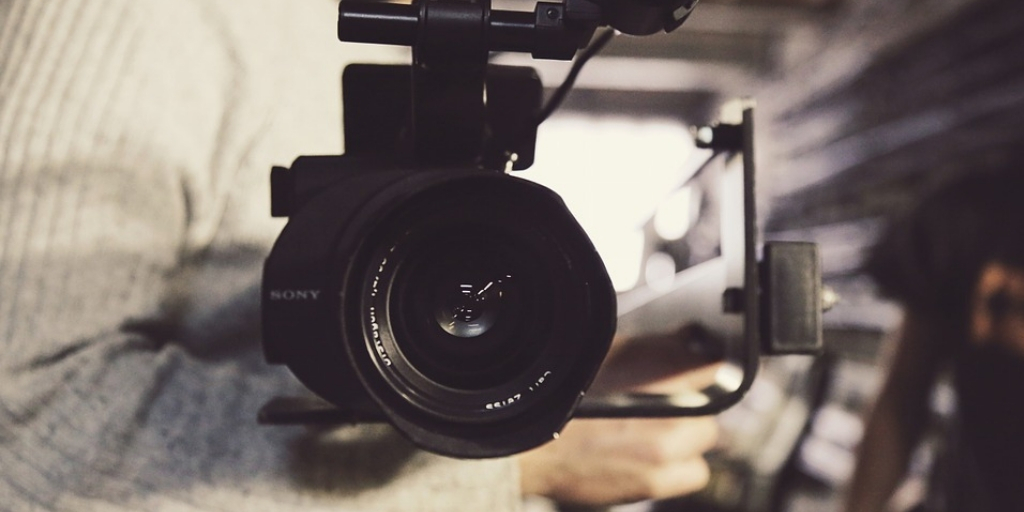 Video marketing is no longer the wave of the future—it's now. And it's one of the best and most cost-effective ways to grow your social media audience and generate leads.
If you're a real estate marketer, you're probably aware that one of the biggest industry trends in 2018 is the growing prevalence of video. Recent research from Social Media Examiner indicates that not only do nearly two-thirds (63%) of marketers use video content in their social media marketing, but 77% plan to increase video content within the next year.  
These days, most real estate searches start online—in fact, according to RESAAS, 67% of the real estate buyer's journey is now done online. Since video is the most popular and most widely shared form of online content right now, it's key to creating a positive first impression, and converting leads.  
Here are three ways that you can use video to give your real estate marketing efforts a boost. 
Show you know the area using real estate marketing with video
Whether your properties are rural, urban, or suburban, displaying deep knowledge of your location and community is crucial to cultivating credibility. You can use real estate marketing with video to demonstrate your local credentials. Jason Hsiao, Chief Video Officer and Co-Founder of Animoto, suggests that "there's no need to hire a team of videographers or invest in expensive equipment—a simple neighborhood overview or market update can demonstrate your expertise." 
For example, Brothers Commercial Brokerage of New Jersey used Animoto to create a Facebook video detailing the history of a local building, tapping into a sense of nostalgia and pride of place. It received 14,000 views, as well as 129 shares, and helped engage a new segment of potential buyers and renters. 
Up your social media game
Professionalism on Facebook and Instagram is all about presentation and finding the right balance of appealing to the personal, while maintaining a streamlined image for your brand. Effective use of video can go a long way to improving your social media presence. Creating videos, like the one Brothers Commercial Brokerage used, is cost-effective and prime fodder for sharing online. 
Instagram Stories lets you post videos in small, 15-second increments, and can be an ideal platform for quick video tours of units or properties. Because of  Facebook's recent newsfeed changes, your best bet is to upload videos directly to Facebook's platform, rather than sharing YouTube or other links.  
Establish your credibility and build your brand
We live in a highly visual world, particularly when it comes to social media. Real estate marketing with video is an immediate and effective way to reach your audience and show them what makes your brand and properties special. "On social media, where competition is loud, video helps your brand cut through the noise and stay ahead of the curve," says Hsiao.  
Video is an ideal way to connect with your market, establish your credentials, improve your social media engagement, drive traffic to your website, and generate leads. And best of all, videos don't require a large financial investment, just some planning and creativity. Fuel your real estate marketing with video, starting today. 
Related posts: 
Your search results for "Video marketing"
---
These 4 takeaways from Placester's 2018 Real Estate Marketing Survey give us an idea of real estate marketing trends to keep an eye on.
Digital marketing platform Placester recently published the results of its 2018 Real Estate Marketing Survey. The survey, which collected data from hundreds of real estate professionals nationwide, contains valuable information for benchmarking your marketing efforts in "an industry ready to invest more time, money, and energy toward online marketing and generating more leads."
We've pulled out the top 4 takeaways from the survey here. Interestingly, these real estate marketing trends align with those we are seeing with our clients as well.
In general, real estate marketers are focused on leads: acquiring valid potential buyers and then turning them into sales. It makes sense, then, that many are turning to content marketing as a strategy, as it can be a highly effective lead-generation engine. Read on for more.
4 real estate marketing trends to watch
1) A focus on lead generation, nurturing, and conversion.
You can learn a lot from looking at the aggregate goals for the industry.
When asked about their top objective for 2018, 40.3% of survey respondents name generating more new leads than in 2017. Additionally, 23% look to improve on last year's client conversion rate, 21.8% cited focus on the quality of leads earned, and 14.9% are aiming to learn how to better nurture and qualify prospects.
The bottom line: real estate professionals are focusing on generating, nurturing, and converting leads.
2) Challenges
As with looking at objectives, having an understanding of industry-wide challenges also offers valuable insight.
46.4% of survey respondents said that generating enough high-quality leads is the biggest marketing challenge they face in 2018. Rounding out the list, 24.9% are concerned about finding the right marketing tools to use; 23.4% cite converting leads into new business; and 5.3% are worried about analyzing their marketing performance.
Just as lead generation is a top priority for the majority of respondents, it's also the top concern for real estate professionals.
3) Video
One of the most popular marketing tactics for greater exposure in 2018 is video.
When asked what part video will play in overall marketing strategy, 49.5% of respondents indicated that it would be a focal point. 43.7% said they would use it some of the time, while only 6.8% indicated that video didn't interest them at all.
The real estate industry is embracing the power of video marketing. And the good news is, you don't need expensive camera, lighting, or a production studio — your smartphone can be just as effective for creating video content for your social media outlets.
4) Social media
Which brings us to social media.
When asked which social media network they will use most, a whopping 84.6% of respondents pointed to Facebook, with 11.9% saying Instagram, 1.6% saying Twitter, and 1% respectively for Pinterest and Snapchat.
Facebook is ideal for real estate marketing in many ways. Its large user base makes it a go-to network, as well as its robust mobile presence, with location-specific advertising and sophisticated algorithms to help you reach your target audience.
What real estate marketing trends are you keeping an eye on this year?
Related posts:
Your search results for "Video marketing"
---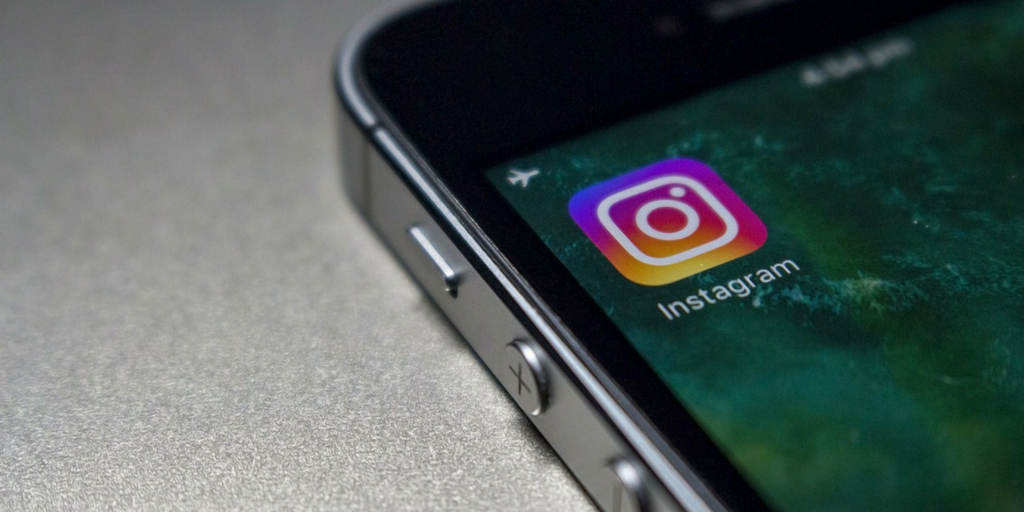 The latest social media statistics show growth of Instagram, social messaging bots, and video content.
We joke around here that one thing that will always stay the same is that social media will always be changing. 2018 has been a remarkable example of that thus far, particularly in regards to platforms like Facebook.
Every so often, we like to take a step back and look at what the data is telling us about where social media is heading and what that might mean for real estate marketers.
Social Media Examiner's 10th annual study, 2018 Social Media Marketing Industry Report, surveyed more than 5,700 marketers from across the world in a variety of industries — including real estate. It offers a really comprehensive view of what's going on in social media in our industry and beyond.
I've pulled out 10 social media statistics from this report that I want to talk about in more depth. I think they say a lot about where social media is headed and what real estate marketers should be paying attention to.
10 social media statistics for real estate marketers
1) For 64% of marketers, social media management is just one of their job responsibilities.
This one blows me away, knowing how much time and effort it takes to run a company's social media program. Only about one-third (36%) of marketers manage social media full time. The other two-thirds have to do that on top of their other responsibilities. That's crazy!
Developers, property managers, and real estate marketers: it's time to recognize how important social media is for marketing your property and dedicate the appropriate resources to social media management. If you can't afford to hire someone to do it full time, consider outsourcing this task.  
2) Only 44% of marketers agree they can measure their social media ROI.
Only 10% of survey respondents "strongly agree" and 34% "agree" with the statement, "I am able to measure the return on investment (ROI) for my social media activities."
Again, I'm kind of blown away. As a firm that relies on data and analytics to inform our processes and strategies, including social, it seems irresponsible to not know if your efforts are effective.
Ok, on one hand, it's actually really difficult to measure social media ROI. That's in large part because so many of the benefits are intangible. You should really be thinking of social media investment in terms of potential, not dollars.
BUT there are some ways to calculate ROI for all your content marketing and social media efforts. Here are a few resources:
3) 75% of marketers have seen a decline in organic Facebook reach over the last year or don't know if they have.
A significant 52% of marketers surveyed said they saw their Facebook reach decline in the last year. Plus, 23% of marketers surveyed were unsure if it had or not — probably not a good sign. Yet 97% of B2C marketers are using Facebook. Something's not adding up for me here.
As we've written about a lot recently, businesses need to be keeping a close eye on Facebook in light of all the recent changes. While we at Fronetics Real Estate are not ready to write off Facebook for business (especially real estate companies) completely yet, it's time to start doing things a little differently.
Here are a few things you should do immediately to ensure you're still reaching your target audience:
Focus on newsworthy content that drives engagement

.

You need to start thinking of Facebook as a place to post and discuss active news items, hot-button issues, and highly shareable content (content that is educational or entertaining, for example).

Tell your community to access the See First feature

.

Users who still want to see posts from certain Pages they follow can choose "See First" in News Feed Preferences. So, quite simply, we suggest asking your followers to choose to see your content.

Consider your ad budget

. Especially for new

properties or those who rely heavily on referral traffic, you might want to consider reallocating budget to sponsored ads.
Stay tuned to the Fronetics blog as we continue to gather information and offer suggestions.
4) 87% of marketers rank more exposure for their businesses as the primary benefit of their social media efforts.
Building brand awareness is a key benefit of social media use for real estate. The Social Media Examiner survey respondents said that increased traffic was the second major benefit, with 78% reporting positive results. These top two benefits have remained virtually unchanged for 4 years.
5) 78% of marketers who have used social media for 2 years or more report increased traffic to their websites.
Also to note, 83% of those who have used social media for 5 or more years "strongly agree" or "agree" that traffic has increased to their websites because of social media activity.
I wanted to pull these social media statistics out because they reinforce the time-honored truth that content marketing (including social media management) is a long-term solution — not an overnight fix. The benefits, especially in terms of metrics like traffic, grow exponentially over time.
You have to allow time for prospects to find you and for your audience to grow organically. Use your social media platforms as a means to distribute meaningful information to your target audience and to communicate with prospects and residents, and it will pay off.
6) 66% of marketers are now using Instagram.
In 2016 and 2017, we answered a lot of questions about Snapchat. Founder of the Content Marketing Institute Joe Pulizzi named Snapchat one of the next big trends in content marketing for 2017. Everyone thought this platform was going to be our new social media darling.
Instead, Instagram has surpassed Twitter and LinkedIn to be the second-most-used social media platform. (It was fourth in 2017.) Use is up dramatically from 54% in 2017. Those are numbers worth paying attention to.
Most of our real estate clients use Instagram with great success.  If you're not on this platform, it's time to join.
7) 63% of marketers use video content in their social media marketing.
One real estate marketing trend everyone got right? The growing prevalence of video.
Not only do nearly two-thirds of marketers use video content in their social media marketing, 23% use live video. What's more, 77% plan to increase video content and 63% plan to increase live video in the next year.
The real estate industry is embracing the power of video marketing. And the good news is, you don't need expensive camera, lighting, or a production studio — your smartphone can be just as effective for creating video content for your social media outlets.
8) 70% of marketers want to learn more about messenger bots.
Here's a big takeaway from the survey: Everyone's talking about messenger bots/social messenger apps. While adoption is still pretty low (only 15% are using Facebook messenger bots now), 51% of survey respondents plan to include them in future marketing.
It's time to start reading up on marketing automation tools like chatbots and social messenger apps. We've got a lot of information about these things scheduled on our blog in the next few months, so keep coming back for more information on how these tools apply to real estate marketing.
9) 39% of marketers are working with influencers.
Influencer marketing is another trend we've been talking about lately. It makes sense: Buyers value the opinions of peers and colleagues. In fact, 82% of Americans seek recommendations when making a purchase of any kind. Such a major purchase like real estate can be greatly influenced by what buyers' peers think of the neighborhood, community or building, etc.
In real estate, it's important to consider other people who might influence buyers and renters. Aside from family and friends, financial advisors, brokers, interior designers, and celebrities (be they local professional athletes or social media celebrities) can have an impact on buyers' opinions of a property.
10) 76% of B2C marketers use Facebook ads.
Interesting that more than three-fourths of B2C brands advertise on Facebook. On one hand, if you're not doing it, do you lose your seat at the table? But on the other, are there opportunities on other advertising platforms that aren't so crowded?
The survey also found that 72% of B2C marketers are interested in learning about Instagram ads. This is likely because of the platform's phenomenal growth and, no doubt, brands' success with it thus far. It's something to think about when planning your social advertising.
If you're interested, I recommend reading the whole 44-page report from Social Media Examiner. There are a ton of really interesting social media statistics that offer great insight into how marketers are using social media and how it's changing — both over the the last few years and in the short-term.
What social media statistics are most interesting to you?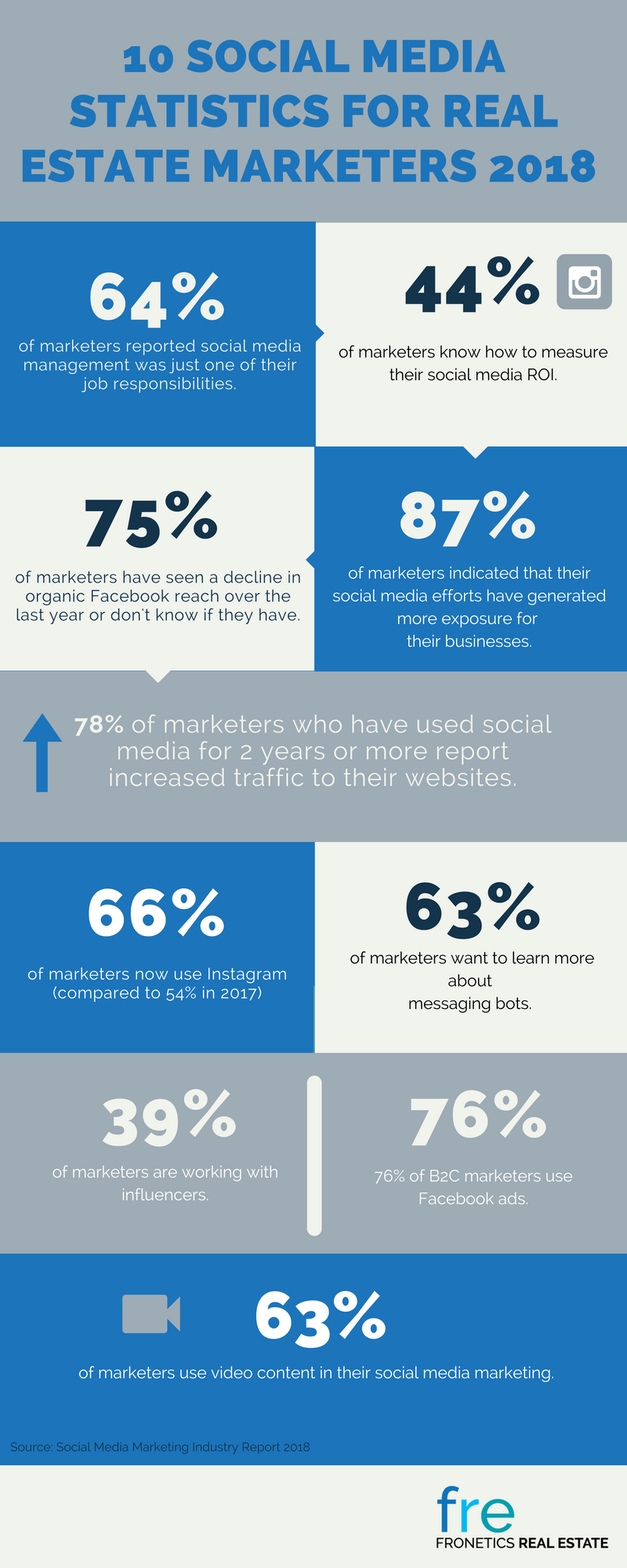 Related posts: