Posts Tagged "SEO"
---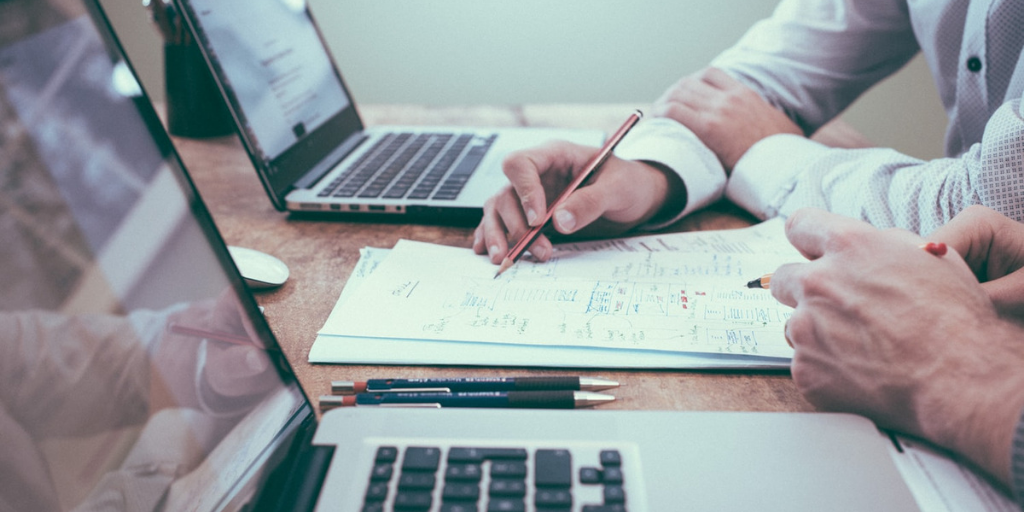 As a real estate 
marketer
, you want to be at a competitive advantage. 
To sell 
properties 
faster
, 
here are six digital marketing strategies to get y
our properties in front of your competitors.
When it comes to real estate marketing, the same concepts apply. Everybody wants to know what the competition is doing differently. To drive sales, you have to look at your performance and make changes where necessary.  
The trick is to look at key performance indicators (KPIs) such as website traffic, conversion rate, market share growth, purchaser rate, and social media engagement as benchmarks to measure your progress. But there is more to real estate digital marketing than just looking at your website traffic. 
Here are six of the top digital approaches that work for real estate.
1. Optimize 
y
our 
w
ebsite
As of July 2019, there are 4.33 billion active internet users, most of whom come from the United States. This means almost everyone, including those searching for luxury developments, is using the internet to do research and find properties to purchase. Therefore, the importance of having a professional website cannot be emphasized enough. In fact, many luxury real estate firms are using digital media to show their properties online. 
Recent data from the National Association of Realtors backs this up: 
90% of 

real estate firms

 

have websites to show their property listings. 

 

Over 50% 

of home buyers 

look

ed

 online for properties

 in 2018

 
With the traditional real estate market increasing its online presence, optimizing your website is crucial to get ahead of the competition and reach more potential buyers. The result? More sales. 
2. Be 
e
asy to 
r
each
With a professional and well-optimized website, users will want to reach you. Make sure you include all your contacts on social media pages, website, and emails. Your contact information should remain consistent whether it's on a business card or social media accounts — you'd be surprised how often this is not the case! 
3. Have a 
v
ideo 
m
arketing 
c
ampaign
Of all the digital formats, videos have the highest engagement rate, making video marketing one of the most effective digital marketing strategies to showcase your services, increase brand awareness, and lower cost per lead.  
Videos on Twitter get an average of more than six retweets, while Facebook users view 100 million hours of video content daily. Video content can drive organic search traffic by 157%.  
4. Start 
b
logging
Do you want more prospective visitors to your website? Then start a blog or breathe new life into that dormant one on your site. A business blog is an essential and inexpensive marketing tool for driving traffic to your web pages and improving search engine ranking.  
However, did you know only 44% of people update their blogs, yet there are over 329 million monthly readers? So, while other companies are relying on traditional marketing strategies, you can capitalize on this competitive advantage and use a blog to provide value to customers and build trust. 
5. Use 
s
ocial 
m
edia as 
p
art of 
y
our 
d
igital 
m
arketing 
s
trategy
You need to be where your prospects are. That means you need to build a strong presence on social media platforms like LinkedIn, Twitter, Facebook, Instagram, WhatsApp, and many others. The easiest way to promote your brand is to through your social media account. According to Forbes, having a LinkedIn company page increases brand awareness and helps to promote your services to potential clients. With over 500 million users, LinkedIn is also the most effective social media platform for securing professional audience engagement. You can also use all the other social media accounts to communicate with your followers and boost your online presence directly. 
6. Optimize for 
l
ocal SEO
Even after optimizing your website to reach a broad audience, you should also focus on local traffic. A targeted approach allows those looking for properties nearby — let's say in Boston or surrounding areas — to get the luxury development listings that match their needs and goals. Use Google Analytics to find out if locals are visiting your site and add your company to local directories. Other ways to optimize for local SEO is to use a local number, encourage customers to leave reviews, and having geo-targeted content. 
As of 2019, there are more options to market real estate business than ever. Whichever digital marketing strategy you prefer, you should be branching out and using the most effective ones for your business. Remember, your real estate digital marketing goals should be tailored to maximize your visibility online, bring in new businesses, and keep you ahead of the competition. 
Related posts:
Posts Tagged "SEO"
---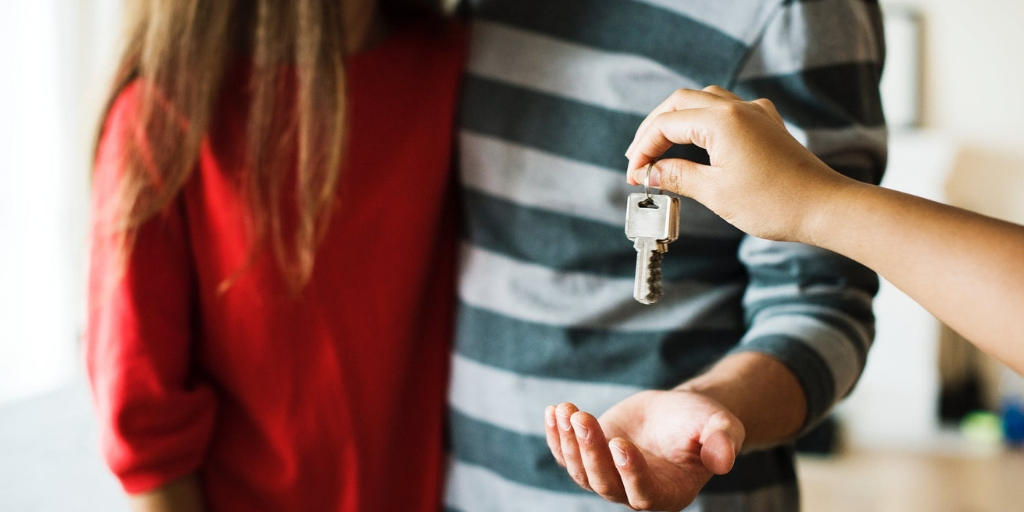 Home buyers are getting younger. Is your marketing strategy ready to meet the needs of millennial real estate buyers?
Consider this: more than a third of all home buyers came of age in the digital age. That's right—millennials, those aged 36 and younger, now make up 34% of home buyers, which is the largest chunk of any generation buying homes right now.
These digital natives have a buying process that's completely foreign to older generations, which means "traditional" marketing tactics won't cut it when it comes to appealing to this demographic. Adjusting your strategy to resonate with millennials makes sense not just because it helps you reach this segment of the market, but also because it keeps you better positioned for the future of real estate marketing.
These three tips will help you adjust your strategy to market to millennial real estate buyers.
1) Be ready to guide them through the process
Millennials get a lot of bad press, as a generation that requires constant coddling and hand-holding. But to be fair, these young home-buyers are new to purchasing real estate—the vast majority (66%) of buyers ages 36 and under are first time home-buyers.
Buying a home is a complicated process, and millennials are looking for agents who will take the time to help guide them through the process. What does this mean for your marketing strategy? Placester's Carolyn Berk suggests that "because guidance is so important to millennials, your marketing should emphasize your dedication to assisting customers every step of the way."
This means offering resources and strategies rather than simply promoting available properties. For example, an eBook that guides first-time home buyers through the process is a great way to demonstrate your knowledge and commitment to supporting your clients through the buyer's journey.
2) Help millennial real estate buyers save money
More than previous generations, millennials are saddled with student loan debt and often rely on sources other than just savings to finance their down payments. Simply put, they are looking to save at every opportunity.
Once again, content is your best bet for demonstrating to millennial real estate buyers that you are there to help them save money. Blog posts, testimonials, and case studies should detail your expertise in getting your clients the best possible deal. "Small things, like helping with contract negotiations or mortgage lender references, can go a long way with millennial buyers," says Berk.
3) Go digital
This one probably seems obvious, but you'd be surprised at how many real estate professionals neglect their digital marketing presence. From social media to your website, marketing online is no longer optional, it's expected. Millennial real estate buyers are heavily using the internet during their search and buying process, and your marketing strategy needs to be ready to meet them online.
First off, your SEO (search engine optimization) is key—your content needs to be readily available to potential buyers entering relevant search queries. "Aligning the content in your website to keywords that millennials use to search for homes in your region will help you pop up in search listings," suggests Berk.
Your social media presence is also important. Millennials are checking Facebook, Twitter, Instagram, and Snapchat frequently throughout the day, and they should be finding your content. Take advantage of these visual media to promote your properties with photo and video content.
Marketing to millennial real estate buyers makes sense for your overall marketing strategy and helps keep your brand relevant and ready to adapt to the future.
Related posts:
Posts Tagged "SEO"
---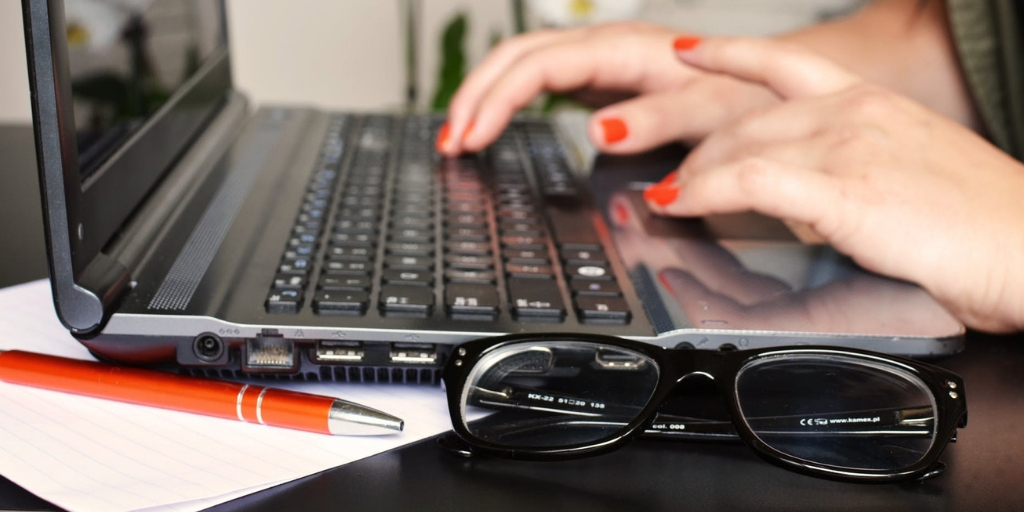 Guest posting can help you build your reputation as a thought leader, grow your online reader base, improve your SEO, and expose your content to new audiences. 
At Fronetics Real Estate, we use guest posting as a part of our own — and many of our clients' — content strategies. Essentially, we partner with a relevant influencer or company, and swap content to post on each other's blogs. It can be a really effective way to reach new, relevant audiences and provide interesting perspectives and voices to keep your core audience engaged.   
What's so great about guest posting?
Guest posting has all kinds of benefits. If you've identified a list of relevant influencers and companies with similar (and ideally wider) audiences, every time you post as a guest, your content and properties are exposed to a whole new segment of your target audience. We talk about this all the time when it comes to content marketing — your biggest asset isn't your properties, it's your expertise. Guest posting helps you establish your brand as a thought leader. 
In addition to posting with real estate industry influencers and peer brands, guest posting for larger publications can be hugely beneficial, for obvious reasons. Not only are you introducing your brand and content to a broad audience, you're associating yourself with an established authoritative source. 
By the same token, having other brands author guest posts on your own blog is a great idea as well. When key influencers write for your blog, they bring their audience directly to you, allowing you to tap into a new and relevant set of prospects. Not only that, by inviting peers to contribute to your content, you're forging and strengthening relationships within the industry. 
Guest posting is great for SEO
Here's a fact that's often overlooked: Guest posting can significantly improve your search engine rankings (We're always talking about how to improve your SEO.). Search engines use backlinks from other websites, particularly popular ones, as part of their algorithm for how search results are ranked. According to online business expert Sarah Peterson, in a guest article for the Huffington Post, "you can use the opportunity of your guest post to include 1-2 backlinks to strong pieces of content you want to rank for." 
Grow your email list
We all know that email marketing is hugely effective and profitable, if your email list is strong, and effectively segmented. Another often overlooked benefit of guest posting is that it has the potential to strengthen and enrich your email marketing efforts.  
Because you're being exposed to new audiences, both as a guest blogger and when guests write for your blog, you have the opportunity to target and cultivate new leads from relevant sources. Use guest posts as an opportunity to usher prospects to lead generation campaigns on your own website. Says Peterson, "if you're not using this marketing strategy, you could be leaving a ton of email subscribers on the table." 
Involve your readers
As with any blogging efforts, you won't get much bang for your buck if you simply author a guest article and do nothing to promote it. "You have to promote the article on your social media and through your own blog," writes Tyler Zey of Easy Agent Pro. It's also a good idea to solicit and reply to reader comments on your guest piece. 
Are you a real estate professional who has authored a guest blog? Have you invited others to write for your own blog? Tell us about your experiences in the comments! 
Related posts:
Posts Tagged "SEO"
---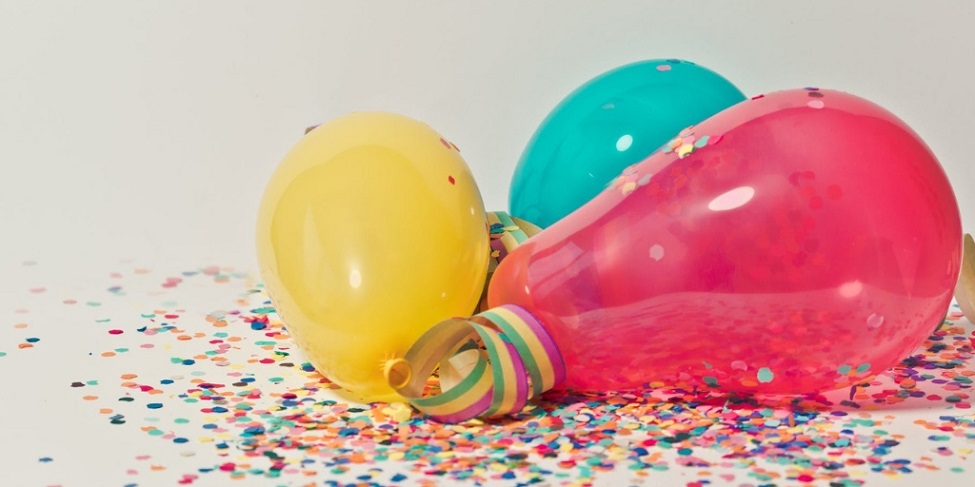 One year ago, Fronetics announced the official launch of its sister brand, Fronetics Real Estate, serving residential and commercial real estate clients.
It has been a big first year for us at Fronetics Real Estate (FRE)! We launched a year ago today, offering digital and content marketing services to residential and commercial real estate clients. It seems like a good time to step back and take a look at our progress so far. 
By the numbers
We tell our clients all the time about the importance of a data-driven approach to evaluating content marketing success. In the spirit of practicing what we preach, we thought we'd share a few metrics with you, as we evaluate our own strategy at this one-year mark. 
We hate to brag, but we're pretty proud of the fact that since our launch, FRE's organic traffic has increased by 1802%. While we can always be working to improve our SEO, this drastic growth in organic traffic tells us that our strategies are working, and people are finding us when they search real estate topics. 
Additionally, direct traffic to our website has increased 101%. When it comes to social media, our traffic has increased 50%, with 48% of that coming from Facebook. In the same way we help our clients to evaluate key metrics and adjust their content marketing strategy, we're using this one-year mark to look at our successes and shortcomings, and adjust our strategies accordingly. 
FRE Named a Top 60 Real Estate Marketing Blog
Back in March, our blog was included on Feedspot's Top 60 Real Estate Marketing Blogs & Websites for Real Estate Marketers. Particularly given that we'd only been live for 6 months at the time, we were honored to be included. 
Feedspot chose the top real estate marketing blogs from "thousands of top real estate blogs in our index" using search and social metrics. They are ranked on the following criteria: 
Google reputation and Google search ranking

 

Influence and popularity on Facebook, Twitter and other social media sites

 

Quality and consistency of posts

 

Feedspot's editorial team and expert review

 
Who are we?
At Fronetics Real Estate, we aim to be a go-to resource for developers, property management companies, and other real estate entities when it comes to all things marketing. Though our blog is relatively new, our team has been creating and driving digital marketing strategies for real estate for many years. We're proud of our many successes for our clients. 
Fronetics Real Estate's portfolio of digital and content marketing services includes: 
Content marketing: strategy development, content creation, and execution

 

Social media: strategy, management, distribution, advertising

 

Email marketing: templates, marketing emails, workflows, and newsletters

 

Website development: branding, design, maintenance, and content creation

 

Paid advertising: pay-per-click and social media advertising

 

Sales enablement: reporting and analysis, sales content optimization, automation

 
Whether you have luxury condominiums, for-rent apartments, a planned community, commercial properties, or mixed-use/retail space, we would love to show you how Fronetics Real Estate can help you reach today's prospective buyers and tenants.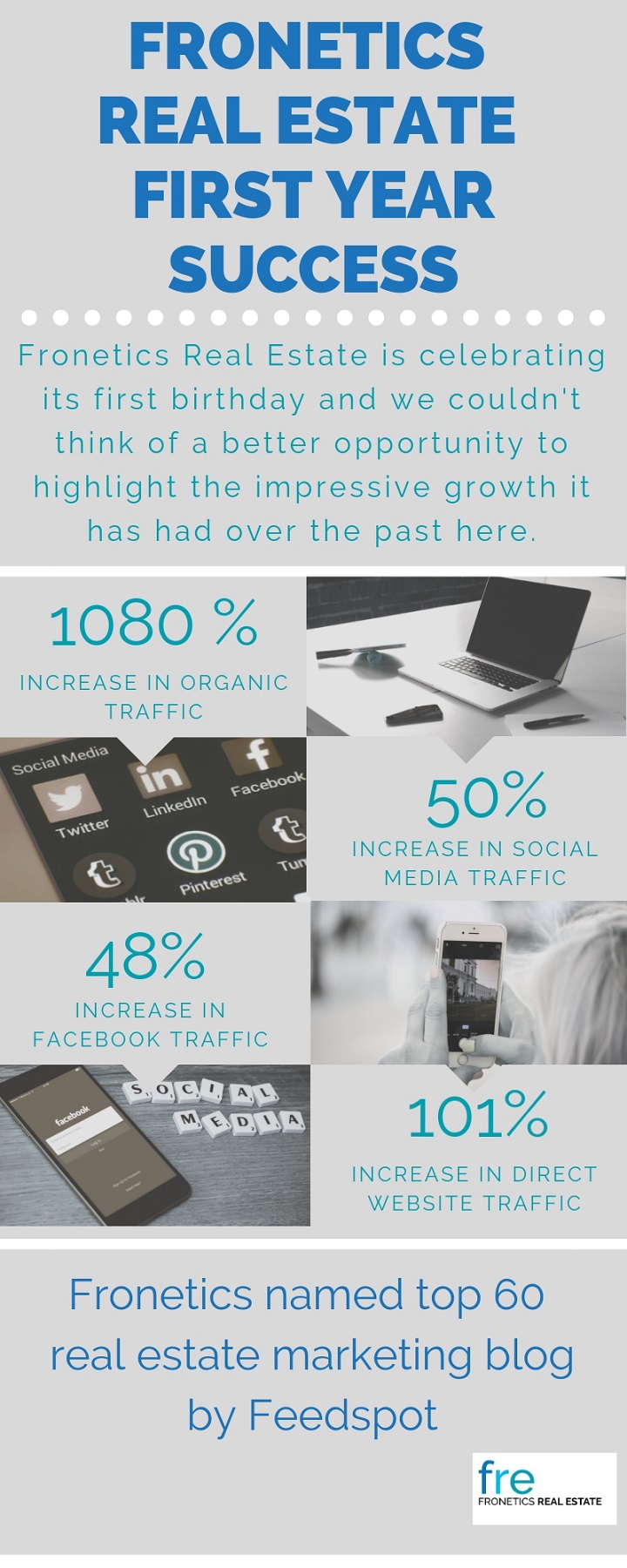 Related posts:
Posts Tagged "SEO"
---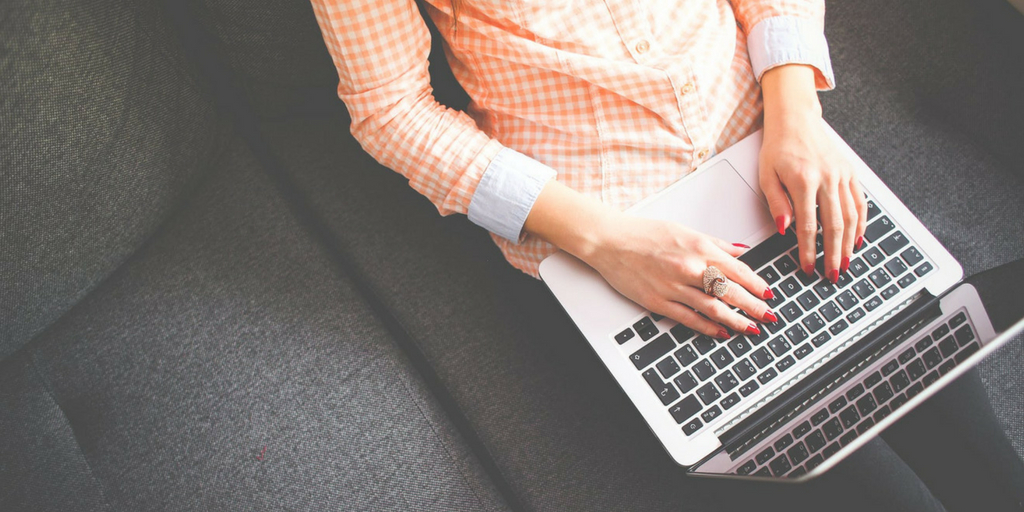 If you're a real estate marketer who's not blogging, you're missing out.
Everyone knows you need a property website to succeed in this industry. But when it comes to making that website competitive, many abandon the brightest idea that would help them in doing so — namely, blogging.
Real estate blogging does its bit for lead generation, SEO, and sales. So if you think your property can thrive without it, you might want to think again.
Search engine visibility
As search engine algorithms get increasingly complex and sophisticated, the quality of your website's content becomes more and more important. It's your content that informs search engines about your site (not just keywords anymore), improving your rank in relevant search queries. And the stats bear it out — according to HubSpot, companies that blog receive 434% more indexed pages on average and 97% more links to their website.
Another fact to consider: according to a recent study by Search Metrics, the average word count of the highest ranking content in Google is between 1,140-1,285 words. In other words, long-form content, like blog posts, is one of the best things you can do to improve your website's SEO.
But don't be fooled into thinking that quantity outranks quality. Simply pumping out a high word count isn't enough. Your content needs to be well-written, thoroughly researched, and engaging.
Lead generation
Blog content is ideal to share (and link to) in email or social media marketing campaigns. It can help undecided leads learn about your properties and sway them in a positive direction. Sharing your blog posts on your social media accounts helps give validity and authority to your company, as you disseminate content you created yourself.
A recent study from the Content Marketing Institute found that 67% more leads are generated by companies with an active blog. Not only that, 81% of U.S. online consumers trust information and advice from blogs. So your blog is your best bet in terms of becoming a trusted resource for your audience — leading directly to more effective lead generation and nurturing.
Sales and relationships
61% of buyers report feeling better about a company that delivers custom content and are therefore more likely to buy from that company. And furthermore, HubSpot reports that 50% of consumer time online is spent engaging with custom content — like blogs. And perhaps most powerfully, 82% of marketers who blog daily acquired a customer using their blog, as opposed to 57% of marketers who blog monthly. Blogging helps you sell real estate, and it helps you build lasting and fruitful relationships with your audience.
Check out our infographic for statistics on why your real estate marketing strategy should include blogging.
Infographic: Why your real estate marketing should include a blog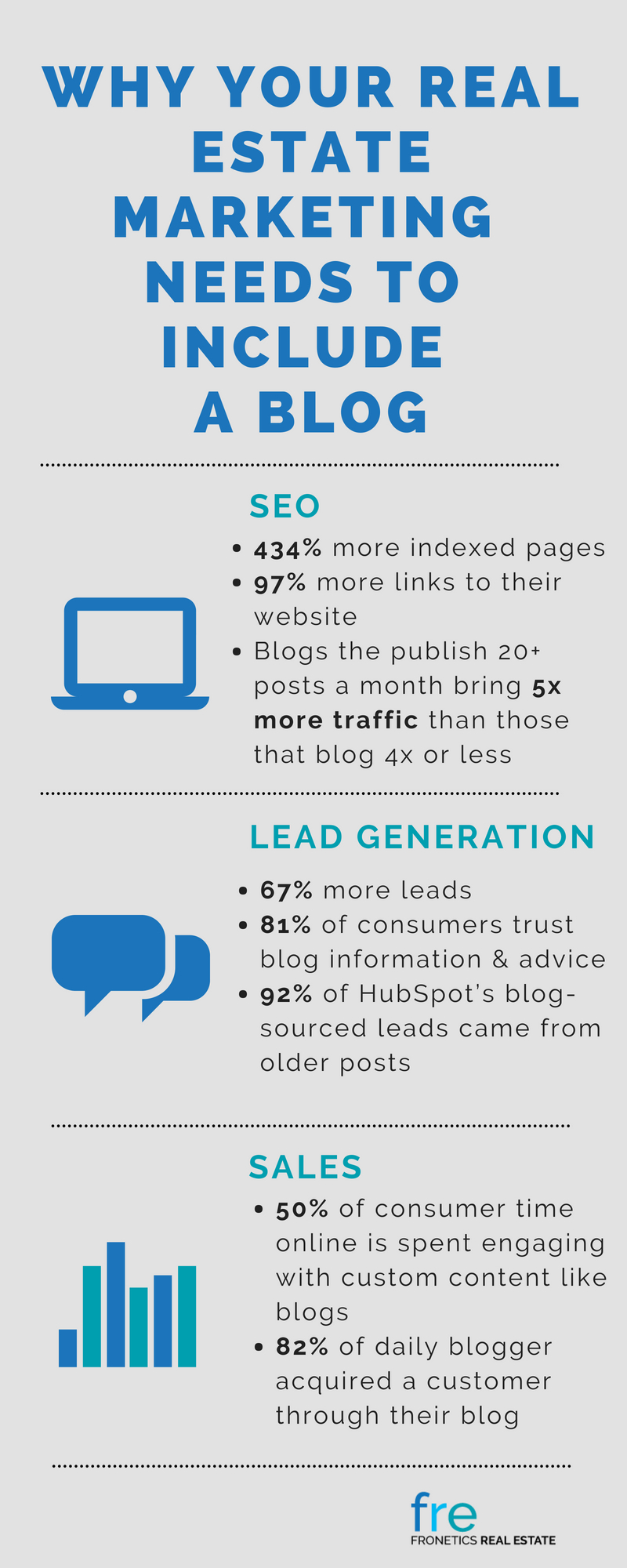 Related posts: